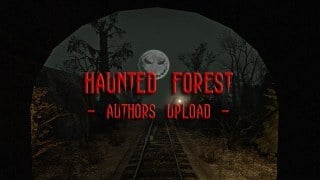 Haunted Forest
You are downloading as a guest.
The extended gallery contains images from all community members.
Reuploaded December 2020. Yes, that means I'm going to work on the stuff that's not working properly in the map, but I'm working on something else first so it's not going to be for a while.



Survivors are stranded in Transylvania. Go through the forest and the mansion to reach the escape boat! This campaign is complete, but could get some fixes in the future.
- CoOp and Versus
- 4 Maps
- GHOSTS!
Any comments are welcome. Have fun!
Stranded in Transylvania
Reach the Escape Boat
Coop and Versus
GHOSTS!
12/19/20
========

After taking a really long break from mapping, I decided to pick L4D2 mapping up again. This version has a few minor changes (a few broken sounds and a line of code that was missing that enables VS play)

Good old campaign to play with bots & friends

Played this campaign & I finished it in about 40 minutes. This is an old but cool & fun campaign about exploration through woods. There are some ghosts here but they only show up without harming survivors. The supplies here are enough & bot's navigation is fine. Although some areas are explorable, directions & highlights are clear so there's no need to worry about getting lost in the woods.
.
Map 1 is about exploration through woods & sewer. Some areas are explorable with supplies scattered somewhere, so it's worth exploring for awhile to look for supplies. As it's outdoor exploration with trees along the way most of the time, it give advantages to special infected to give some surprise attack from behind a tree, so rushing alone is not really recommended as it will make you an easy target for special infected.
.
Map 2 goes from the mansion to the woods. There are also some explorable areas here. Near the end of the map, there's an escape event. Though there will be a survivor saying about turning off the alarm, actually it's simply an escape event to the saferoom without an alarm switch. So, just keep running instead.
.
In map 3, survivors explore inside a mansion. For those who ever played "Night Terror" custom campaign, this map will remind them about certain area in that campaign as it has similar atmosphere, like a mansion & some ghosts. There's nothing special here, as survivors only need to explore the mansion to find the way to the saferoom.
.
Then in map 4, survivors try to escape from the mansion through the woods & cemetery. It's a rather long escape finale. It's not just a simple linear escape finale, as at certain areas survivors need to find some ladders to climb up & down to proceed while zombies are chasing from any possible directions. Bile bomb is needed here to make things easier to pass, so keep one until the rescue music is played.
.
In short, it's an old but gold campaign. It's recommended to play, as it's playable with either bots or other players without problem. It's worth putting this campaign into collections.
File Details
hauntedforest_aut...
(164.5 MB)
View Changelog
Version 3.1 Complete