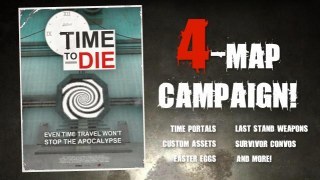 Time to Die
You are downloading as a guest.
The extended gallery contains images from all community members.
The Survivors Travel Through Time and Space!
- - - - - - - - - - - - - - - - - - - - - - - - - - - - - - - -
After narrowly escaping from yet another Infected horde, four desperate Southern Survivors decide to search for a secret government laboratory hidden in the mountains. Little do they know, the technological marvels they're stumbling into could have everlasting consequences for the entire human race...




Disclaimer & FAQ
Time to Die is a campaign-exclusive add-on that may have compatibility issues with other mods. If you're experiencing crashes or other problems, please try disabling some of your add-ons (including other campaigns) and restarting Left 4 Dead 2.


4-Map Campaign
Experience a full-length campaign that whisks you away to numerous exotic locales throughout history: the Old West, a space station, a medieval castle, and more!

Time to Die is a debut campaign made entirely by one person (that's me!) over the course of 11 months. The difficulty and average completion time is on par with what you'd expect from an official Valve campaign, but with an extra layer of weirdness added on top.


Last Stand Weapons, Skins & More
Every new weapon added in the Last Stand update has at least one scripted spawn for players to find, Counter-Strike weapons included. Several weapon skins from the Last Stand also make an appearance, along with textures and unused dialogue from the update.


Custom Survivor Conversations
Do you ever think it's awkward when you play a custom campaign and the survivors never talk to each other? Time to Die has got you covered, with over a dozen new conversations made by remixing survivor dialogue into natural-sounding exchanges.

Survivors will call out directions as they traverse the paradoxical timescape, they'll make plans in every safe room, and if you like exploring, you might hear some petty squabbles that make you laugh.


And More!
Time to Die also features custom graffiti, bizarre easter eggs, nonlethal platforming, font-related humor, and secrets galore.

Let me know what easter eggs you find in the comments! One of these days I'll make a video showcase, but until then, it's up to you to find them all...
10/22/20
========

1.2 Patch Notes:

- Added a few more weapons and items to Map 1. This should further encourage
Very Creative and kinda trippy too

Pros:
Survivor Dialogue/Reactions. It's old/re-mixed audio but I really like how the survivors were conversating almost every step of the way and reacting to the bizarre stuff they see.
Lot's of references. Silent Hill PT Demo, some platforming stuff. All of it is great. I did NOT...expect the ghost lady to actually jump out at you. Jesus.
Everything is just perfect and really creative. Well done.
-
Cons:
Minor Bot Nav Issues in Hell (Sorry. Spoilers)
-
Final Thoughts: P e r f e c t   C a m p a i g n and probably my favourite.
File Details
timemachinekhmc.vpk
(113.8 MB)
View Changelog
Version 3.2 Complete