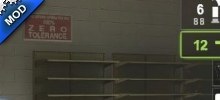 Realistic weapon pack
You are downloading as a guest.
The extended gallery contains images from all community members.
This mod makes all weapon act more realistic

-Pistol magnum no longer instant kills on realism
-All weapons ammo in the magazin reduce to there real life counter-parts
-The new shotgus shots deer slugs
-M16 shots a 3 shot burst


-Scar Full automatic
-Incress recoil for all weapons


Pros:

- A step in the right direction for a genuine challenge and realistic feel.

- Verily do I appreciate the work of one who would go out of their way to correct all of the silly mistakes and disproportionate firearm mechanics in an otherwise really fun game.

Cons:

- This mod did not work for me at all, despite manually placing it in my add-ons folder. It would not even show up in my add-ons list.

Conclusion:

I have no idea what some of the people on here are going on about while complaining about magazine capacity. (Folks, take note that there are no "clips" in this game.) Most of it seems accurate save for a few odds and ends as well as some things I know you can't modify yourselves. (I'm not sure if the SPAS-12 used slugs for special ammo types but changing the incendiary and explosive rounds back to buckshot sounds like a really great balance for the weapon) If anything, I would suggest halving the reserve ammo available on ammo-pickup and making all pistols ammo-limited. I really wish I could use this mod personally, as it looks wonderful, but great effort, nonetheless!

EDIT: Finally got it to work and it is basically everything I've already said in my prediction/observation review. One con I would add though, at least in my personal experience is that it still does not show up in my add-on section so I can not enable/disable it on the fly.
File Details
realisticmod.vpk
(5.6 KB)
View Changelog
Version 0.1 Beta