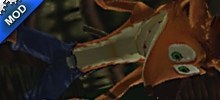 Crash Bandicoot
You are downloading as a guest.
The extended gallery contains images from all community members.
Well due to the much demand for Crash, I'll pre-release him to you all. It does look like however That I may have to start all over again on this model sense the 3d ripper and Dolphin seemed to have alterted his scaling weirdly. But this is the exact same model from mind over mutant. Enjoy 
Pros:

- Crash Banicoot!
- First Person View Arms
- Crash Icons
- Minimal Clipping
- Changes Name
- Easy to see in the dark

Cons:

- Pills/Adrenaline/Pipe Bombs seem to float to the side of Crash (-0.5)
- First Person arms are really wonky for some weapons (for example, Crash's finger extends really far out when carrying a Magnum)(-1)
- Low Quality Mesh (-1)
- Crash still speaks like Ellis, but this is probably not possible to fix (-0)
- Size can get in the way if he is in the Front Lines (-1)

Conclusion:

I would have really loved to play as Crash in L4D, but the Cons outweigh the Pros for me. If you can stand a few graphical problems, by all means download. If you're a neat freak like me, not so much.
File Details
View Changelog
Version 1 Beta