Reviews for 2032: Redux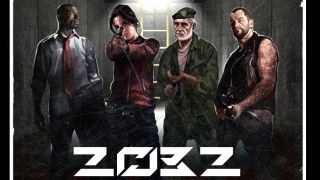 Good

A "The last Man" mutation campaign but with one difference: "common zombies".

An easy campaign until the final part, where it fires constant hordes, but nothing that an ax does not handle.

I don't know why it says it is a continuation of "2019", I didn't see anything associated with the 2019 campaign.

But was funny.

nice idea and want more

It's a good idea.The story,the NPCs,the environment and the single player ganme.At the beginning of the game I even wonder whether am I playing a game that isn't L4D2.The first time I see a vending mechine,I wondered if I can buy something.Then I found manything interesting in it.There're more than  that can tell players you guys worked hard to make this map.
But the map is quite short and Ijust shoot tons of CI and listen to the story.In some place in this map,I think there could be a tank better than other SI.

Expected more

I thought with such a large scale in the final will be something special, but there is an ordinary break through the horde. And this unfortunate ladder... If it was a Left4Dust campaign I would have understood. You do the elements of horror but you do not even added a witch, for example down there after that hapless ladder. So for me the final ruined everything. It's so boring to break through the crowd in solo, even with the hunters and jockeys. I would do something unexpected like fall into a dark room with a tank, well and put there a couple of columns to help run away from it. Well, I respect your work at almost 1GB (Yama are smaller), although in my opinion your attempts at this stage to make from L4D something like "Dead Space" or "Bioshock" failed.

Very fun

Really enjoyed this map. Changes up the usual L4D2 gameplay a bit too, which is pretty cool.

2032

Pros:

Dynamic item spawning - unusual but pretty awesome

Custom common direction

Linear map design without being boring

Well-done back story


Cons: 

Short map

Sections apart from finale are too easy

Campaign only, no realism (no deduction from score, just wishing)

Overall: 

GREAT map for training independence on higher difficulties! This map is completely doable for the beginning 2 player team or a nice introduction for a beginning solo player, even if it's only in campaign, expert campaign with 1 player is easily ("easily") completed without too much worry. That being said, although the finale is a great area to test your masochism in, the rest of the map is entirely too simple in terms of difficulty, there's a definite lack of special spawns prior to that, although this could be a good thing. 

The story is quite excellent, there's a lot of small details in the map that contribute to the overall atmosphere. I liked being able to hide from the common infected while they ran past, the custom infected patterns, sounds, and others lent to a more engrossing environment, and the final moments of the map were comprehensive endings that provided just enough material for closure without becoming too boring.

In conclusion, this is a awesome map, it will set the world on fieri

This review was posted before the latest release.

Best Solo Map

Pros:
- Single Player, no bot for friendly fire
- Multiple Ending based on Level
- Level Design
- Shove button on Special Infected
- Good Story before start and end

Cons:
- Expert at Ending is quite hard for who not enough strong
- Hunter after shove is stuck on survivor, on Expert can knock you down
- Cutscene and voice too long, sometime is look funny
- HL2 Rebel and Civilian are reused in this map
- Delta Sector Door after opening is no joke

I found that 2032 is best for single player and co-op, advanced and expert is extreme hard to win and I found out the ending at Expert Solo mode so I don't speaking to know (except someone knew before), Level 3 is limited of Boomer, Hunter and Jockey that I found out that after I kill boomer, Jockey or Hunter are spawn when full of Common Infected, Sniper Rifle with Melee weapon is best weapon for Expert Solo, Multiple Ending is based on level is quite good to play on Expert to found out think.

This review was posted before the latest release.

i know the ending in the expert solo-mode when your in the surface... you will explore the radioactive city of San Marino it is covered the atmosphere with nuclear winter then in the credits you will hear a last message from bravo squad like "this is where humanity ended" am i right!? give me a feedback!

This comment was posted before the latest release.

Well-Rounded

I will admit, between 2019 and 2019 II, I was a bit skeptical of this campaign. 2019 II was such a departure from normal Left 4 Dead gameplay and it didn't blend very well. However, you've surprised me with 2032 - you actually listened to criticism of 2019 II and took it to heart. Gone are the interruptive cutscenes and forced story; 2032 only has an intro and outro cutscene, but still gives you a good story in the campaign without it being shoved in your face.

The return to (mostly) form of L4D gameplay is very welcoming along with the new changes. In context of this campaign, the gameplay changes (running speed, stealth around zombies, no survivor bots, more difficult common infected) are nice touches and add to the authenticity of 2032.

Overall it's a very nice way to end the trilogy on a better note than 2019 II - 2032 finishes the plot in a coherent way and has significantly better gameplay, despite the shortness of it. However, the length is probably by design - a 5/6 map campaign with these mechanics would feel dragged out.

This review was posted before the latest release.

I really like this.

Very like map I give 2032/10.

This review was posted before the latest release.
End of results.