Reviews for Dark Carnival GHS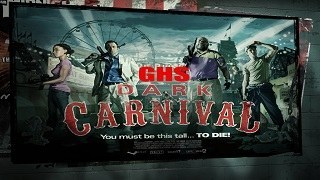 0 Star would Fit, but again, this website is forcing me to give 3 stars (Don't download this thing.... A waste of time)

Just played it on Easy from A-Z just to see those changes you made. You literally didn't add anything to the campaign except for the lame heart door by the end of chapter 2 that requires the pressing of a button to hold us back for a little more time. Another thing you added that does nothing to the sequence of the game play or the performance in general which is the song played in the concert during finale fight. That music showing up when first tank or second tank show up is the same which doesn't match the song replaced the original game song. I bet your best GHS clan members x2 would finish first chapter on Expert. It's nothing, but a waste of time pushing hordes of zombies with melee all the way to the safe room while getting attacked by all special infected at the same time along with tank and witch. I shall say I wasted much time downloading and playing this campaign that added nothing, but more anxiety & tension. I did it on Easy accepting the fact I can't move further than that truck on first chapter if I play it on Expert with bots or with friends. Why are you sharing like 6 pictures of the campaign on the main map page? You added nothing lol.. What did you change? The poster liked comments say? I don't even notice any changes. The easiest chapter was finale as it was just like the common finale for this campaign. Please don't upload any maps ever again. Thank you :)

RAGE

that's all RAGE too many ci and si.. shit i can't past even in map one..

This review was posted before the latest release.

Review

I wouldn't really consider this a campaign, I'd consider it a mutation. The constant hordes, the constant and sometimes double specials just make this campaign a pain in the backside. The bots aren't much help in this campaign either apart from being good bait (which they pretty much are) But I wouldn't really say this is the way it's meant to be played by any means, only play this if you are into the second sentence I wrote. Other than that, I'm sorry but it's a dumbed down version of DC.

This review was posted before the latest release.
End of results.