Reviews for Santa can I go out and kill tonight 2?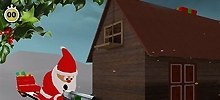 Review

It's big map. It's very fun when you bring your friends and play with them!
Map have Toy car!
You can choose weapons you want :))
It's good map :D

Pros:

Very fun
Huge
Toy car!
The wishlist! 
Super high jump :)
Watching bots fall to there death.
Narration

Cons:

Toy car is a bit glitchy
Bots are stupid

Conclusion:

I love this map! Its so creative and fun, and original. One of the balls on the christmas tree is purple and black squares which is missing textures. Is that intentional or not. Overall one of my fav L4D2 maps ever :).

Pros:

-Good map 
-Epic wishes
-Gives you all weapons
-TOY CAR!!

Cons:

-To many health packs
-May crash sometimes
-Why dose the slay blow up?!

Conclusion:

Epic map small survivor EVERYTHING MINIGUNS AMMO done

Pros:

A big environment
Frozen infected are kinda cool
Toy car is a great idea
Different places to defend

Cons:

The car is extremely fidgety making it hard to shoot infected sometimes


Conclusion:

Great map, kind of weird, but I really liked it. But that car, it needs to be fixed a little.

Pros:

fun to play with friends,fun to lay on christmas for some spirit,some spots to camp and survive long times,alot of resupplies,interesting wishlist feature,creativity 

Cons:

alot of walls that can be broken down,tanks cant easily punt you off places and kill you,

Conclusion:

a very good map in conclusion I would recommend it to anyone who wants to get this map.

Pros:

+ Very nice map.
+ Snowy style.
+ Christmastree and presents.
+ Easter eggs built in.
+ Big toy car packed with guns and supplies.
+ Snow and ice fields.
+ Custom music via jukebox.
+ More than enough supplies and defib units.
+ Built in switches to fly or to spawn somewhere inside the map.
+ Challenging.

Cons:

- Car was buggy and it was also far too easy to survive in the car.
- Big ladder somehow was very glitchy while zombies are climbing down.

Conclusion:

I was absolutely enjoying this map! It has a lot of custom things and it offers fun without ending! Nice work, love it.

Pros:

Awesome Stuff
Many Ways To Play
Alot Of Fun Easter Eggs


Cons:

Car Is Buggy
A Little To Hard
If You Hate This Your Noob



Conclusion:

Always fun to hop in and play. i beat this 9 minutes alone easily i found the problem why it's hard it's because in single you dont have to revive.
Overall this is the best map i ever played i would give this map of the year

Pros:

-Christmas
-Zombies
-Cars with machine guns

Cons:

-On the car it gets a bit glitchy
-Santa looks funny (not that major but it cons me down a little)

Conclusion:

This map is very fun to play with your mates on and the fact that I can troll them with the tank before they even starts gets me everytime. This map is amazingly fun and come on its christmas.

Pros:

-lots of stuff
-lots of throwing idems
-christmas :)
-big house
-snow
-santa
-xmas
-better then l4d2 version


Cons:

on the big latter there is a glitch when u get on the hudge later the zombies dont come! -12

Conclusion:

GREAT map dude works fine great job keep up the good work :)!

Pros:

-lots of stuff
-lots of throwing idems
-christmas :)
-big house

Cons:

Well easy to die and bots r stupid also the sledge is inviseble some latters too

Conclusion:

Sorry but the l4d1 version is better.Other than that it is a really good map man good job man :)

This review was posted before the latest release.

Pros:

Fun gameplay
Frozen zombies
Many things you can use
Many weapons
House is cool!

Cons:

Too big and too open
Intro its not really good
You killd santa!
Zombies can hardly get you in the fireplace

Conclusion:

Its a fun map but the intro is boring. And its too big and open so killing is very easy.

This review was posted before the latest release.

Pros:

i loled when i saw the santa nothign much to say its just a good map i dont really think anything good or bad about it

Cons:

i dont really know xD its one of those maps were your like wtf......

Conclusion:

keep up the good work man it was fun to play wiiith my friends

This review was posted before the latest release.

Pros:

-Great Fun with friends
-Nice thing with Santa Sledge
-It actually makes you feel small
-Santa list of wishes is also nice addition.
-Gramophone is cool
-Santa in the Lake, and zombies in ice blocks. 
-Voice at beginning is nice addition
-VERY ORGINAL!!!

Cons:

-Bots cannot find themself in the map
-Santa sledge is kinda way too good hiding spot
-What's up with those skulls in presents after launching timer ?

Conclusion:

With what I can start... 
 This is one of the most entertaining map ever played . It fun to play it even without the timer running .. just to jump around with low gravity etc.
There are lot of little additions that make the map better from other survival maps, and the effect of being small is perfect.
-------------------------------------------------------------------------------------------------------------------------------------------
It's a bit too easy in sledge... But you can always hide somewhere else ; )

This map doesn't have a lot of major bugs (maybe execpt nav of bots - but thats problem of many maps of "fun&wierd" type.
I give it 98 points because of the minor bugs and santa sledge....
After all it's one of the best survival maps I've ever played ; )


This review was posted before the latest release.

Pros:

- Very original
- smooth gameplay
- frozen zombies
- Santa looks awesome
- rotating turntable and custom music
- Survivors' pic frames

Cons:

- not enough defib since it's easy to fall and die
- seems to be a bug on the mid-ladder. When i jump from it to go faster, it brings me back at the top of it.
- Staying on the sledge looks a bit easy to reach gold.
- When Santa goes out from the frozen lake, he does... nothing....

Conclusion:

That was some fun !!
Many great ideas given to details and gameplay.
I was expecting Santa either to be helpful or to rescue the survivors. That might be an improvement you could work on.
Thanks a lot for this unique survival map.

This review was posted before the latest release.

Pros:

Really fun gameplay
Froozen zombies :P
Big map
Cool fighting areas

Cons:

Bots can get stuck sometimes
Some missing models

Conclusion:

Some of your models was invisible. Like the slegde.

And bots can get stuck sometimes


But its a really fun map! Good job ;)

This review was posted before the latest release.
End of results.