Reviews for Mines of the Living Dead - The Caves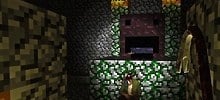 Pros:

It's original
You can break blocks like in minecraft
There are many diffrent routes

Cons:

No real ending.
No weapons or cutscenes or really anything.
IT IS WAYYY TO SHORT.



Conclusion:

Meeyah. It's not great but it's not that bad. Work on it a little and i'm sure it'll be better.

Pros:

- Minecraft
- Original
- Different routes
- Places to explore
- Breakable walls

Cons:

- No weapons
- No dialogue
- Hardly any health
- No directions
- Extremely short
- No cut-scenes
- No events to trigger horde


Conclusion:

Even though there is currently no second map, it needs more work done to it to get a higher rating. There are a few creative ideas but it's too short for me and lacking horde events which every campaign needs. 

Pros:

Large detailed map.
Minecraft

Cons:

I had to use a Pistol the Entire time.
Not many weapons.
Tank made Nick fly though a wall into a charger and spitter's grasp he died.

Conclusion:

Not enough health items to use. No Defibs, Bots will take any the Primary weapons if your not quick enough.

Pros:

-Nice, and the textures are clean.
-Well put together.
-Really well touched up, feels like Minecraft.

Cons:

-Kind of small at parts, would be nice if the tunnels were a little wider, or bigger.
-Miss the walls that break often, and sometimes too dark... but it's alright. 

Conclusion:

This map is well polished and has a feel of two good things, Left for dead, and Minecraft. 

Pros:

-Minecraft textures nice.
-Fighting tank in throne room is fun,  (i think thats what that room was lol).


Cons:

-Some minecraft textures seem a bit wasted, (red-stone blocks being explosive could be cool). or not used as well as they could be, (maybe gravel could've been the destrutible walls rather than just a solid).
-Too short.
-Not much replayability.


Conclusion:

-Nice fun minecraft themed map, best if this was a campaign but oh well.
-At 2mb it's good for a quick download and a few playthroughs but you won't be coming back to it very often.

Pros:

Minecraft textures
Some destroyable walls

Cons:

Got to saferoom, nothing happened
Hard to tell which walls you can destroy
Way too dark, hurt my eyes to play
Get lost so easily

Conclusion:

Ok maps but too dark and easy to get lost. When I was in the saferoom with everyone there was no map change. Still needs quite a bit of work to be the 94 rating that it is.

Pros:

Minecraft grafic.=)
Original idea!
I like Bill!!!!!!!!!!!!!!xD

Cons:

When I in the  saveroom mission is not end.
It need more weapons in the begin.

Conclusion:

I like this  this map and i give it 100 points!

p.s. Sorry for grammar.

This review was posted before the latest release.

Pros:

+ its lot like Minecraft
+ scary
+ hard

Cons:

- its way short, but that will be fixed in future u said so :)

Conclusion:

i like it and hope to see the versions in the future even more better!

This review was posted before the latest release.

Pros:

Has more than one path
Level design is similar to that of Minecraft
Really fun event at the place with the statue and the mossystone
Zombies BREAKING THROUGH THE BLOCKS!

Cons:

No music, custom sounds, etc.

Conclusion:

I love this a lot, and can't wait to see what you have for the future. I hope that you expand it beyond what it currently is(more maps). As well, a survival/scavenge map would be really cool and I would play it a lot.

Make a nether map, too! In the future, too, you should add custom models and stuff for zombies and survivors and weapons.

This review was posted before the latest release.

Pros:

+ Uses Minecraft textures
+ Has Minecraft objects, e.g. Torches/Ladders
+ Manages to feel like a real cave one could find in Beta
+ Fun to play on Expert

Cons:

- Level is a bit short
- Feels slightly repetitive
- Redstone lighting seems a bit strange (pink-ish color?)

Conclusion:

First off, no, my complaints aren't because I feel like I've been insulted by this campaign getting featured in so many places, this is honestly what I think.

Second off, I commend you, sir, for having more patience than I do (enough to create a believable Minecraft Beta/Alpha cave).

Overall, I'm liking the direction that this is going in. Keep it up! =)

One thing I hope you won't mind me asking - how'd you manage to get the fire working on torches? I tried using env_fire's and it was too big, so I gave up on it for the time being... 

This review was posted before the latest release.
End of results.