Reviews for FN SCAR-L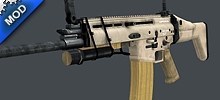 Pros:

+ Very smooth texture, scratched to simulate the weapon has been through a lot of stuff.
+ Crouching animation is included.
+ Laser sight appears correctly.
+ The light source from the flashlight appears correctly.

Cons:

- I wish the FN Herstal logo was on the side instead of "FN Herstal Belgium" written out.
- When the player slides the charging bolt back, the bolt sticks through the side of the weapon.

Conclusion:

I love detail, and I sure as hell love the SCAR type weapon family. I downloaded this as my first mod for the Desert Rifle and honestly, I'm not going to download any other mod for it EVER. If you haven't downloaded this Desert Rifle mod, I highly suggest you do so.

Pros:

+Detail textures and colors
+Suitable combination of colors
+Scratches as always looks great :P
+Reminds me of Modern Warfare SCAR


Cons:

-A lil bit bright
-Other than that no

Conclusion:

For those who loves SCAR, this is recommended for download :)

Pros:

Good detailed texture
Feels natural

Cons:

None that I can see

Conclusion:

Is a good detailed texture which feels at home with L4D2

Pros:

Very well detailed 
looks great 
No  glitchs

Cons:

Why

Conclusion:

Another great mod will you give these kind of mods to the other weapons

This review was posted before the latest release.
End of results.