Reviews for COD Guy 07 - (replaces Ellis)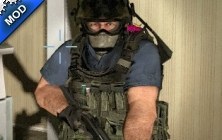 Pros:

-Looks great
-works at multiplayer


Cons:

-no fps arms
-no HUD icon
-not Soap MacTavish

Conclusion:

This is the best CoD mod for ellis. Looks like the original CoD guy. But no fps wiew what is a bit disturbing. And its not Soap:(. (Got Ghost and Cpt. price as nick and coach, and i would be happy if i can replace ellis, as Soap)

Pros:

+ Good textures
+ Looks good in third person.
+ Nice skin.

Cons:

- First person isn't working at all, no changes on anyone.
- Textures still look a bit blurry.

Conclusion:

Actually I am only playing in first person, that's why I will charge a big minus on that contra.
End of results.