Reviews for S-mart Louis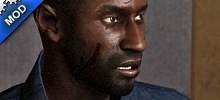 Pros:

- Very High Quality
- Much detailed
- Skin for Louis, there aren't many of them floating around
- That  tie makes mah day!

Cons:

-

Conclusion:

Well. It has a bunch of detailes and its HD. 'Nuff said. Go download it.

Pros:

-Just amazing quality!
-EVIL DEAD BABY! What a great homage!
-No bugs or problems or errors!


Cons:

NONE!

Conclusion:

All and all, this is a really great skin. I am a huge Evil Dead fan and this does me well! Thanks for this awesome skin miztaegg and thanks for all the others as well!

Pros:

-All around better than Louis
-Is now headcanon that Louis worked with Ash
-Stains and wounds are amazing
-DAT TIE


Cons:

-NOPE

Conclusion:

I am still using this mod after nearly a year since I first downloaded it 

Pros:

* A better alternate for the default in-game Louis skin.
* Kinda reminded me of Burton "Gus" Guster from Psych, as he always wears formal clothing (Gus is also a pharmaceutical sales representative, much like the S-Mart Louis skin).
* Great stain details on the uniform, makes it look like he's been through it all.

Cons:

* None, whatsoever.

Conclusion:

... using this skin since the first time I downloaded it (almost two months back). Undoubtedly the greatest of the Louis skins I downloaded (IMO). :D

Pros:

Perfect for the BOOMSTICK and Chainsaw!!
Realisitic Zombie Apoc. battle scars...
Personally, I love Bruce Campbell as an actor. (I'm a big Burn Notice fan.) 

Cons:

Not really a Con, but a suggestion: Make his right hand armored like Bruce Campbell's Character...

Conclusion:

"KLAATU... VERATA... N..*cough*..tu...? No wait! I said it! Come on!!"

Pros:

SHOP SMART, PLAY SMART
It's Louis in alternate costume
Of course, highly detailed texture made him look awesome

Cons:

Blah....

Conclusion:

Pillzzz Here!!!

Pros:

Great textures
------------------------------------------------------
The blood and scratches just make him look epic

Cons:

None...

Conclusion:

Love tthe skin and it makes me play as louis more often.

Pros:

-Again textures and detail are very nice and HD
-Fits very well in game


Cons:

i wish you would make some more Louis skins but this isnt gonna affect my rating of course XD.

Conclusion:

Sadly one of the only good louis skins ive seen. but ya this is an awesome skin.

Pros:

+ Blue shirt
+ Good employe look for Louis
+ Nice watch
+ L4d2 avatar type
+ Louis is more serious now

Cons:

- They wear ugly ties to S-mart

Conclusion:

It's the only existing good skin for louis. I will keep it

Pros:

+EVIL DEAD (i only saw army of darkness but its my favorite movie)
+its like Ash (duh)


Cons:

what

Conclusion:

great mod again what would i do without these skins

Pros:

Lots of detail 
Name tag
Tie

Cons:

S-mart isn't in the L4D-verse


Conclusion:

very good top detail. If you were to fix that con I would maybe do the Pills here store or maybe make him look like an I.T guy not a grocery store worker.

This review was posted before the latest release.

Pros:

I hated Louis.
I love him now.
Damn, those details... your skins are always top-notch.
I want that tie...

Cons:

N-o-n-e.

Conclusion:

I absolutely love this. There's no skin for Louis out there better than this one.

This review was posted before the latest release.

Pros:

- Louis looks MUCH more epic
- The details you included on this were PERFECT. The dust, dry blood, dirt, everything was epic.
- The tie looks awesome, ha.

Cons:

- I sometimes mistake him for a hunter due to the fact that the skins' too dark. But that's a con for my sight.

Conclusion:

Pretty epic skin, makes him look more bad-ass. Great job!

This review was posted before the latest release.

Pros:

Love the whole uniform and nametag is great

The dirt adds a nice touch

Cons:

S-mart does not exist in l4d universe, then again this Con is more for Valve ;D

Conclusion:

Wonderful skin for Louis. I will be using this one for quite some time.

This review was posted before the latest release.

Pros:

+The clothing style, it just fits with Louis and its way better then the default.
+THE TIE!
+the dirt is very well made and looks really good.


Cons:

-The facial wounds/dirt the 2 on the side do not blend in enough they seem out of place like they don't belong, it would work out better if they were more subtle but its pretty much the first thing that caught my eye

Conclusion:

Overal this skin makes Louis look way better then the default, id give it a perfect score if it wasn't for the head its to obvious to my taste and takes the attention from the good things.
I recommend this skin to anyone looking to make Louis look better.

This review was posted before the latest release.
End of results.