Reviews for District 14 rooftops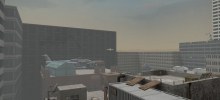 Pros:

-plenty of good camping spots
-experienced players can easily survive for more then 10 minutes
-loads of secrets
-decent amount of supplies
-night or day? you choose
-tank adds strategy since his punch can throw you off of the building
-breaks in the horde (but not the SI) add opportunity to resupply but with a risk, speaking of which.....

Cons:

-..........breaks in the action can become to boring or easy -tank punches can lead to some cheap deaths if you don't plan
-a bit on the small side
-can be too easy

Conclusion:

One of my favourite maps that can keep me playing for hours (the sky never loads properly for me(but I think that thats just me). It can be a bit easy but it doesn't take away from the enjoyment

This review was posted before the latest release.

Pros:

+ Interesting setting
+ Fun and challenging
+ Excellent use of cramped spaces
+ A lot of z-axis movement
+ Good layout

Cons:

- Too many health packs
- Destroyed walls in some places look bad
- Finale starter hint never goes away

Conclusion:

First of all, I though the map was lots of fun to play on and I enjoyed the setting. I liked that overall the map was small but the spaces were so cramped that there were a lot of areas you could go to. There was a lot of z-axis movement options which was really cool. The layout of the map was very smooth and didn't pose any major problems.

You had way too many health packs though. Granted, they were spread out, but there were enough that you could abuse them all. The destroyed walls in some places were extremely jagged and looked bad. For a perfect example of what I'm talking about, look at your fifth picture. Also the finale starter hint never goes away, it still tells you to start the round even while the round is going.

There are a few things you can do to improve your map:
1. Remove some of the health packs.
2. Maybe make more variations in the destroyed walls to make them better looking.
3. Terminate the finale starter hint after the button is pressed.

Gameplay: 45/50
Aesthetics: 25/30
Uniqueness: 8/10
Replayability: 10/10
TOTAL: 88/100

This review was posted before the latest release.

Pros:

Probably the most detaild roof I ever seen!
Amazing roof design
Brilliant idea

Enough supplies
Challange (if you dont camp at the safespot)
Alot of ambients

Cons:

Bots dont like ladders and often lose some hp
No poster or map image (at least have the default one, pink/black doesn't look good)
Day time - equipment can't be moved

Pretty buggy - bots dying etc

Conclusion:

Review 2:

Seems like most of the cons were fixed. Some of them are still there but its not many things left now.
A fun map with alot of challange. It do have some bugs but some of them are actully pretty funny :)

This review was posted before the latest release.
End of results.