Reviews for Pinkie Pie Axe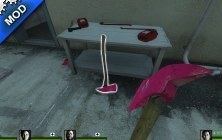 Pros:

MLP, Killing Zombies is Magic

Cons:

Look, there are 3 reviews that say there are none, do you think I'l have one?

Conclusion:

Amazing.
Rating: Over Nine Thousand / 10

Pros:

I love how cute it makes slashing zombies heads off seem xD Very adorable, love the pink coloring!

Cons:

None! 

Conclusion:

I'm not an MLP fan but I love how cute the MLP mods are! This takes the cake!

Pros:

Washed out colors, scratches, dings and marks make it look all the more fitting.
Its my favorite melee weapon, and now has pinkie pie on it
Its in every (or mostly every) campaign
Level of detail depends on your graphic settings, making it just as cool as the regular axe

Cons:

Cupcake references. 

Conclusion:

in truth,  would see an axe as more Applejack's thing, unless we are counting the a'fore mentioned con (let hope not). 

I love the axe as well as Pinkie Pie :D

Pros:

MLP

I love Axes

I can now giggle a bit when hacking the limbs off some dead heads.

It's my favorite Party Pony's lethal weapon!

Cons:

NONE

Conclusion:

I'll enjoy every swing. Hope to see more like it.

Pros:

Cute

Cons:

Colors are a bit too solid.

Conclusion:

It's pretty good, could use a bit more texture, but otherwise, nicely done.

Pros:

+ Pinkie Pie.
+ Nice color.
+ Balloons.
+ Looks damaged and faded, reminds the user of the apocalypse.

Cons:

- None.

Conclusion:

Great mod, it's perfect with the other My Little Pony melee mods, keep up the good work! (:
End of results.