Reviews for Dj Pon3 Guitar (new)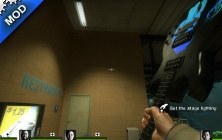 Pros:

All of it! It puts vinyl on a musical instrument!

Cons:

None.

Conclusion:

Beastmode! Just really really really really awesome.

Pros:

+ A simple and cool design.
+ Goes well with the Zombie apocalypse, especially when blood is spattered on it.

Cons:

- Could use a design going up frame of the guitar, along with one on the back.
- Related to the topic above, it lacks a filling design to it.

Conclusion:

It's a great color and design for the guitar but it needs more to it rather than a simple design near the bottom, then going all black.  Add some more intricate designs to it.

Pros:

Unlike your other Pony skins, which are bright and colorful, this fits the L4D style by being Dark while still being just as awesome
DJ-Pon3 all the way
This really looks awesome how it slightly glows in the Tunnel of Love
It only gets better with Blood Splatter

Cons:

Insert witty "con?" dialog here [EG: KAHN!]

Conclusion:

First skin I downloaded, and proud to convert me. Not into a brony, but that ponies can fit into L4D. Quite an awesome skin, I just wish it wasn't ONLY in DC and the Parish.

Pros:

Fairly nice design.
Not too flashy; nice and dark.
When the blood splatters on the blue spot, it looks fantastic. There should be more blue melee weapons.

Cons:

None spring to mind.

Conclusion:

It's a nice guitar. Not much else to be said.
End of results.