Reviews for Failed FEV Subject (Charger)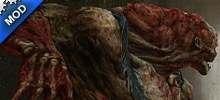 Pros:

-Looks creepy
-Fits the charger
-Shows overgrown muscles which show mutation caused by the infestation.

Cons:

-none

Conclusion:

I screamed like a P*ssy in versus when one of these charged at me from a dark room...

Pros:

+Cool looking monster
+Horrifying to the point where it actually makes the game feel a little more like "survival horror"
+Love the face
+Great model

Cons:

-Low res textures at some points (-0.5)
-I feel like something like this should have a custom sound because the default charger sound just doesn't fit in my opinion (-0.5)

Conclusion:

Probably by far one of the best charger models I have seen! Textures could use some updating though and see if you can find a more fitting sound for it.

Pros:

- High-Quality Mesh and Texture
- No Clipping
- Best Charger re-skin I've found here
- Scaled well to the original Charger
- Outlines work perfectly
- Ragdolls, rather than it just disappearing
- Looks Exactly like the Fallout 3 FEV Subject.

Cons:

- No Sound Pack (-0.5)

Conclusion:

This is definitely worthy of a download, but a Sound Pack would have made this so much better. Everything works as it's supposed to without any clipping. Great work!

Pros:

Excellent quality skin
Suits the charger well
Makes me jump when it comes out of nowhere


Cons:

None that I can think of.

Conclusion:

The old charger was boring and this one is more what I imagined it to be like when my friend told me about the charger before L4D2 came out. Works great with beta charger sounds so check them out.

Pros:

Fallout
Looks better than vanilla charger and most charger skins


Cons:

None

Conclusion:

It would be nice if it included super mutant speech from fallout 3, still great skin

Pros:

- Like all of Splinks' models, this one actually works without needing to change sv_consistency.  
- Looks great.
- Makes the Charger much more intimidating.  Now it really looks like a monster instead of just a DERP!zombie.

Cons:

- None.

Conclusion:

Make sure you remember to move out if this thing's way, rather than standing in place to admire it.  

Pros:

- nice texture,i have to agree below, it sorta does have human like look
-looks a lot better than a regular charger
-perfect detail on the model
-

Cons:

-none that i can think of

Conclusion:

this may be the chargers aunt, no? anywho, perfect model u have in your hands, here

Pros:

- Yes, it works online, if server enable custom addons, of course
- No consistency problems
- Too great new apparance, its face and body moviment is just amazing

Cons:

None

Conclusion:

Man, it is awesome! Fitted perfectly well in L4D2 atmosphere. Its face adds a new feel to Charger.

Thanks.

Pros:

This mod is really detailed, It has human like apperance (kinda)

Cons:

Dosent appear online with is a big dissapointment!

Conclusion:

I really like it, just dosent come online for some reason!

Pros:

-I love fallout!
-Very good skin
-Now has a ragdoll  while almost every other remodel for an npc does not
-Fits well for charger

Cons:

-Can be a bit glitchy... The ragdoll sometimes seems spazy
-No online model D:<

Conclusion:

Very good model... Was hoping for an online one though.

Pros:

Much more better then the Changer we have now

scares even me when i fight that thing one on one

how can you not like that skull face?

Cons:

....nope cant think of one

Conclusion:

My conclusion....Amen to No RadRoaches! hate those things...

Pros:

- Love FO3!
- Love the model!
- Love you Splinks!
- Have my babies!

Cons:

- How can there be a con?!

Conclusion:

Make moorrrrreeee!
End of results.