Reviews for Jacob Taylor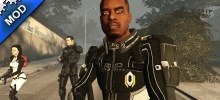 Jacob Taylor Review

This is simply excellent work!!!

Pros:

- It's Jacob Taylor
- Highly detailed
- Eye tracking
- Face posing
- Everything he does looks very fluent and natural.
- FP arms!

Cons:

- No voice
- No name change (but it can be annoying sometimes because you have to restart game for his name to go back to Coach)
- No HUD icons

Conclusion:

Looks great! I like that it's for Coach because both Coach and Jacob use shotguns.

Pros:

+ Mass Effect 2
+ Finally, didn't even know this was here


Cons:

- pshhh... what cons?

Conclusion:

This is a very good mod indeed. You actually put face animations and fps arms unlike some people. Can you do a Garrus mod with the animations and arms, PLEASE?
End of results.