Reviews for M14 Tactical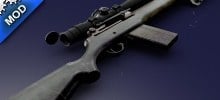 Pros:

short barrel
sound (best)
animation (i dont like the new version)
color (not wood)
texture is beautiful
very good feeling
not a too strong feeling gun for hunting rifle 

Cons:

sometimes not working at multi

Conclusion:

It's totally awesome and perfect. I can feel the gun in my own hands when im sniping with this replace. And also not a too strong gun for hunting rifle (for example M14 EBR) so i can replace the military sniper as dragunov. (I think (but not sure) the M14 EBR and dragunov are the same category).

Pros:

Good fire sound
Reloading really nice and true 
Nice looking 
Incendiary sound is too strong 

Cons:

No . I think not 

Conclusion:

I think this is a greatest skin for hunting rifle I ever seen before . I hope Dr Haus will make another great skin for other weapon . Downloading

Pros:

looks great - way better then original
makes you want to use the rifle more
great sound
can't see myself ever going back to the original, can i dont see anything that beats this.


Cons:

I would have liked to have seen a longer barrel.

Conclusion:

all in all my favourite replacement for the rifle. really nice weapon.

Pros:

New model.
New and nice sounds.
Includes re-animations.



Cons:

Crash if picking the original HR on Official Dedicated.

Conclusion:

Everything is fine, only thing could be the related crash to the mod when picking the HR into the servers where the mods are deactivated.

Pros:

+Best hunting rifle mod I've seen yet
+The scope

Cons:

-Unusable in multiplayer
-Unusual weapon draw 

Conclusion:

Very good hunting rifle mod, I'd use it more often if I could use it in multiplayer, really stuffs me up if I try join or I'm trying to get someone to join my game

Pros:

Good model, texture.
Level of shiny, reflection proper. (latter is rare)
Proper world placement.
Decently animated.

Cons:

Poor sound quality. Fire cuts off, audible pops at beginning of mag insert, lever pull.
Hud Icon broken. (script width 64, should be 192)
No flashlight, laser attachments. Gas barrel tip is an acceptable substitute.

Conclusion:

A wellfitting replacement for the much too barren stock weapon.
The few bugs aside, a welcome addition to my model selection.

This review was posted before the latest release.
End of results.