Reviews for TankFever5-TankFever2mirrorEditionPlus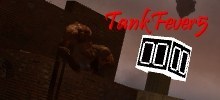 Pros:

 - Lots of tanks
 - Common hoards every few minutes to keep things interesting
 - Tons of supplies
 - Re-spawn closet
 - Lots of supplies

Cons:

 - No stats :(
 - The wooden bridge access to the safe room is just a bit too impossible, recommend removing one or two trigger events from that area

Conclusion:

Awesome map, still fun a year later.  If this had stats it would be 10/10.

Pros:

- Bigger than last one
- Harder than last one
- Witch
- Ending

Cons:

- Common zombie hordes
- No details


Conclusion:

This was awesome. Even for veteran players those common hordes are very annoying and i prefer to see about 50 more walking witches more than any common zombie. I hope this map is still not ready... put some detail and make those boxes look like real buildings. This is real "special" survival and if u can make this look like real map I'll give this 100 points :) L4D needs this kind of survivals.

Pros:

+Great challenge
+Large, well designed map
+Lots of physic objects for the tanks to use
+Safe room
+Escape via helicopter
+An army of tanks
+Good amount of supplies
+Many different paths to take while fleeing from the tanks
+Countdown tower



Cons:

-Would be better if it were just tanks
-Gets boring quite quickly, especially when playing with bots
-Hits hard at the start
-Basic detail



Conclusion:

A fun map if your looking for a challenge, my suggestion would be to remove all the infected besides tanks of course.

Pros:

Really hard no matter difficult
Good teamwork is needed
Escape helicopter - if you survive for that long

Alot of physic things for the tanks to use
Good amount of supplies for the survivors


Cons:

One camping spot is far away from the tanks so they dont know where you are. And even if they do, they fail due to the long distance

Its a tank map so huge hordes coming might be annoying sometimes

Conclusion:

Once again, excellent tank map! Perfect if you are looking for a hard challange.

End of results.