Reviews for Default SCAR-L Reanimation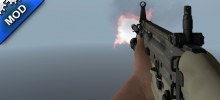 Pros:

Makes the SCAR look better by lower the weapon down and thus reducing the appearence of the size. Allows you to see shells which look neat. Animation is clean and non fussy.

Cons:

Non

Conclusion:

Go get!

Pros:

-- Much smoother than the original SCAR animation

-- Animates more of the model than other SCAR reanims I've used

-- Not flashy

-- Works with skins

Cons:

-- Reload finishes in a matter that is extremely similar to Arby's (your, I guess) M16 reload.

Conclusion:

All in all a very good animation-- if I didn't know L4D2 and its animation quality, I wouldn't bat an eyelash if somebody told me it was part of the game.

Pros:

Realistic animation
Fixes the "bolt handle coming back too far" issue from the original anim

Cons:

None

Conclusion:

Great animation that's sure to pick up the ladies 

Pros:

Love the animation
Way better then the original



Cons:

None!

Conclusion:

I really hated this gun but now I love using it.

Pros:

-Excelent animation.
 -Better than the old one
-Keeping this one

Cons:

none

Conclusion:

A great mod im keping this one!!!!!!!!!!!!!!!!!!

Pros:

Better than default scar  
Very smooth 
feels right 
looks WAY better 

Cons:

cant think of any 

Conclusion:

Very nice and very good (vale should hirer you) 

Pros:

Great animation.
Makes my hands feel more at home.
Reload animation fits very well.
No empty cracks to fill.

Cons:

Upon weapon draw, the finger no-clips through the bolthandle seemingly...

Conclusion:

Either way, you did great at it. It needs a little improvement, but overall, I recommend it Definitely! :D

This review was posted before the latest release.
End of results.