Reviews for Fox McCloud (Nick)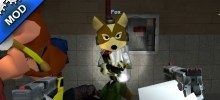 Pros:

-I love Star Fox!
-Looks EXACTLY like the N64 version

Cons:

-when playing as him his arm holding the gun looks like a stick and kind of bugged me at the beginning but now I am used to it. 

Conclusion:

Star Fox is AWESOME thanks for putting this on!

Pros:

-Starfox! Whoo!
-FPS arms.
-Works just fine.

Cons:

-None here.

Conclusion:

What more can I say other than another cool skin?
End of results.