Reviews for Two-toned SPAS 12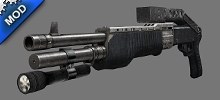 Pros:

- More modified scripted, out-toned version of the Combat Shotgun (+8.5)

Cons:

- No custom sounds (-2.0)

Conclusion:

Nice modified version of the Combat Shotgun, a must need for modders!

8.5/10

Pros:



Good texture
Better reload animation
Awesome model

Cons:

To small

Conclusion:

Awesome auto shotgun design by all means download

Pros:

+ Badass Model
+ Better Reloading Animation
+ Great Detail 
+ The Two Toned

Cons:

- The Model is a bit small on both the World Model and the View Model

Conclusion:

Best Spas reskin and model out there. As stated below the model is a bit small. I highly recommend.

Pros:

Spectacular model
Detailed textures
Reloading animation
Two toned

Cons:

World model a little too small
Same with the view model

Conclusion:

World model should be a bit bigger, as well as the view model, to give it that powerful shotgun feel. Everything else is gorgeous. 

Pros:

Looks good
Reload animation doesnt block vision

Cons:

Nothing as far as I can see

Conclusion:

I think im gonna keep this for a while.

Pros:

-Looks 10x better than the original.
-Reloading animations are incredibly realistic.
-The added walking animation looks incredibly realistic.

Cons:

-None

Conclusion:

Fantastic. I've been using this for a long while, and don't think I'll be changing it anytime soon!

Pros:

Good textures
Good model
Awesome reloading and firing animations


Cons:

Looks really weird and small in first person
Like the M1014, the walking animation looks a bit weird

Conclusion:

A really good mod for the Franchi SPAS-12 that also removes the weird hook attached to the foldable stock. The animations are good, but again, the walking animation looks a little weird and doesn't fit at all.

Pros:

Nice gun. It's more realistic then old version. And animation in this case suits this gun because it's use pumping system of reloading to insert final shell into the barrel.  

Cons:

none

Conclusion:

Good version of the original one! I am recommend it.

Pros:

Different from the original one.
Like the real spas 12.
It's the best spas skin I've ever seem.

Cons:

None (-0)
None (-0)
None (-0)

Conclusion:

That's the way, uh-hum uh-hum,I like it! A-W-E-S-O-M-E.
End of results.