Reviews for Multicam Teenangst Zoey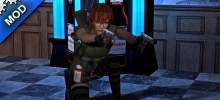 Pros:

Both Arby26 and K1chwa Zoey models combined
Nice usage of a green color scheme
Camouflage skirt was a creative idea
Gloves were a nice touch
Very high quality
Cute but deadly Zoey

Cons:

Nothing that is your fault or Arby26's

Conclusion:

Overall excellent combination of both artists.
Hair doesn't render well in Source but that's not your fault or Arby26's.
Keep up the good work.

This review was posted before the latest release.
End of results.