Reviews for Lyra and Bonbon frying pan (and the pinkie axe)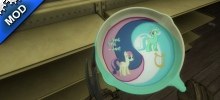 Pros:

Colorful pan
Blood Splatter effect makes it look silly
Makes the frying pan more noticeable and now one my favorite weapons. 

Cons:

*As with Sabre's Pinkie Axe, there is a strange bug that makes coach grunt each time the axe is swung, regardless of character. (It is EXTREMELY off putting to hear zoey grunt like an old black man). 

Conclusion:

Despite the con (because it existed with the Axe mod as well), its a great skin. 

Somepony is going to have a headache after this.

Pros:

Very colorful and super neat colors.

Cons:

not much of a lyra or bon bon brony. but its certainly still nice to have ,and goes real good with my MLP set.

Conclusion:

NOT A BAD FRYIN PAN SKIN.
End of results.