Reviews for PinkiePie Party Ak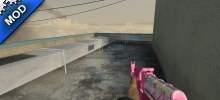 Pros:

Well, it's pony?
A for effort.

Cons:

It looks rather rushed, and the colour is TOO vibrant. While this may be a taste thing, it really is an eyesore, the colours clash really badly. It just ends up looking real gaudy.

Conclusion:

If you really, REALLY like ponies and don't have a skin for your AK-47, this will do. I won't give it the highest score in the universe, but I won't give it the lowest. Serviceable, but not the most desirable.

Pros:

+ PINKEY PIE! I LOVE PINKEY! DEAL WITH IT!

Cons:

- Looks like a toy... I guess...

Conclusion:

Makes me use the AK, and I'm a Shotgun kinda guy.
SO, SHORT CONCLUSION TIME!
SHUT UP AND TAKE MY BITS!
End of results.