Reviews for FIXED Queen Chrysalis G3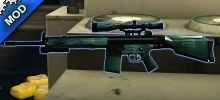 Pros:

+ Great concept/idea
+ Well made and recolored
+ Very simple, yet it so feels so evil to use it.

Cons:

- The weapon appears to go "chrome" when the sun is directly behind the player.  Kinda ruins it for me as I cannot see the design at all.

Conclusion:

Best to have this on in levels where the time of day is night so one could see it better.
All in all though, this is a great re-skinning and I would use it if I didn't frequent day time levels...

Pros:

Awesome green flames and cyan-faded decals along the gun
Very glossy blackness everywhere
Love the little "Property of Queen Chrysalis" on the side. 
Kept that little dial scope on the top (never really knew what they are used for, but I still liked seeing it)
The face on the scope, looks particularly menacing . (It also looks very awesome during the chapter change, when it grays and blurs out)


Cons:

The minor issue mentioned earlier has been fixed, so this area is intentionally left blank..... damnit.

Conclusion:

This entire sniper rifle just SCREAMS detail and effort, and every bit shows. Not only that, but helping with that minor issue I was experiencing just showed more effort into making an awesome skin that everypony could use. 

Added to the fact that I used Arby26's military sniper animations and MW2 Sound effects make this rifle all the more bad ass to use. I find myself taking the roll of Sniper more often thanks to this skin. 

Pony version or No-Pony Version, this skin is amazing and worth of the constant 10's it receives. 

Pros:

-OMFG AWESOME!!
-MLP
-Love scope design!!

Cons:

-She stole Shining armor from Cadence..... :,(

Conclusion:

AWESOME!!!!! VERY WELL DONE!! SOLID 10!

This review was posted before the latest release.

Pros:

Well done, unlike most pony weapon skins
Detailed
Not too bright and colorful, so it doesn't look too out of place

Cons:

None

Conclusion:

Unlike most pony weapon skins, I really like this one I will probably be using it. A lot of detail went into this one, and it doesn't look too colorful, which means it isn't going to look out of place in the game.

This review was posted before the latest release.
End of results.