Reviews for Deathcraft Zombies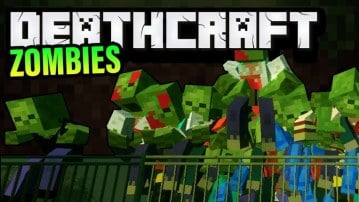 oye que pasa si lo combino con este mod de minecraft zombies lo tengo que quitar o que me ayudas plis  :3

Pros:

Minecraft zombies
Easy to see
Way easy to actually kill a minecraft zombie then a slim zombie
Nice texture

Cons:

Some of the zombies from the actually Deathcraft misses as  the builder but I won't make a penalty

Conclusion:

One of the bests mods from common zombies out there

Pros:

Very nice textures and models, makes L4D hilarious and makes you want to go right up to the zombies and give them a hug with your crowbar.

Cons:

Noticed that there is no minecraft zombie for the hospital patients in No Mercy.

Conclusion:

Very good all together, just needs that one fix.

Pros:

Makes L4D2 less scary for those who are scared of zombies
Looks really minecraft-y
Makes it easier to LEROY JENKIIINNNSSS into a crowd of zombies


Cons:

Makes it look like there are way more zombies than there are, and can see them through walls in some cases.
Can't pop their heads :(
Might be a plus to some, but personally I don't like how the zombies movement is more like watching a machinima than playing minecraft.

Conclusion:

Overall great, just fix the bugs and maybe give them an SFX mod of their own, this mod sticks out more than the MC Special infected mod to me.

Pros:

Good models.
Animations go perfect with this mod.
Looks ok in normal campaigns.

Cons:

None.

Conclusion:

These are really good. If wanting a minecraft themed No Mercy or The Parish then team this up with other mods and you have yourself a really fun L4D.

Pros:

Minecraft! :D
The animations are beautiful
It's good for when you have company and need less gore. 

Cons:

It just dosen't look serious. It basically shoots any seriousness the game had in the head. Still a good mod though.

Conclusion:

A great mod, very fun. 

Pros:

Minecraft!
Looks very nice... in the world were they belong (Deathcraft II)


Cons:

Looks VERY unreal on Non-Minecraft campaigns. Seriously, couldn't be just weird to see in real life, living blocks, in your street?

Conclusion:

Don't have much to say about this, but hey, they come from Minecraft.

Pros:

-Animations are good
-Good variety of textures (especially the armoured mobs)
-Works well with Minecraft Special Infected
-Looks AMAZING when paired with Minecraft mods and map

Cons:

-Seems out of place with Non-Minecraft themed maps

Conclusion:

Looks great, especially with other Minecraft stuff. I'm going to use this myself...

Pros:

Great design
Classic minecraft feel
Doesn't take up much space

Cons:

Lags


Conclusion:

Great mod. Great way to add a aspect of Minecraft into Left 4 Dead 2

Pros:

MANCRAFT

MANCRAFT

MANCRAFT

MAN- oh wait I said MANCRAFT 3 times :P

Cons:

MANCRAFT wait a sec...

Conclusion:

MANCRAFT

Best common inf. mod eva :D

You sir, need a cake. And this time, it ain't fake.

Pros:

Minecraft.
Extracted from the original deathcraft 2 campaign for peoples enjoyment, thus rendering the normal minecraft zombies unneeded unless some people like that more.

Cons:

This may or may not be compatible with the l4d1 campaigns in l4d2. Like the patients in no mercy.

Conclusion:

I feel that this has replaced the Minecraft Zombies addon, so I think that he should've replaced that with this.
End of results.