Reviews for My Little Pony Survivors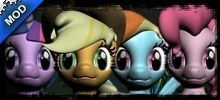 Pros:

Nice Ponies
Good design and texture
NAKED

Cons:

The Hoof blinded sight when using chainsaw
Oddly weapon holding

Conclusion:

This mod is for L4D2 Players that love My Little Pony
+rep

Pros:

great textures
looks flawless
I highly recommend

Cons:

needs L4D1 pony's

Conclusion:

This is a really great mod for brony's and some female gamers. it could really use L4D1 pony's as well.

Pros:

1. Cute
2. Beautiful
3. Colourful
4. Feel safe even the zombies are around, cause I know the ponies will be there for me.
5. More willing to help my teammates because I think I'm helping the cute little ponies.

Cons:

The little ponies are too PERFECT!!
But a little too fat. D:

Conclusion:

1) When my teammates looked at me, I thought they were smiling to me. This made me happy and smile back to the monitor like an idiot. :c

2) When I played as infected in Versus, I had to kill the little ponies, which made me so sad and I nearly cried. :'c

3) Once, I was scolded by my teammate, I thought it was the pony which was scolding me, I felt so sweet. c: [A day after that, I realised I should had be angry or sad.]

4) They are a little too fat but cuuuuute!!

I love this very very very much, I wish there is sound mods for them, I also looking forward for Barbie theme as well.

Pros:

nice idea

Cons:

they look like furry suits due to lack of facial expressions and eye movement
wish they were another 4 since you can't easily separate the mane 6

Conclusion:

._.

Pros:

Very fun to use
Good visuals

Cons:

No expressions
Insanely huge


Conclusion:

Very funny and awesome mod, but making them smaller and making them have expressions will help a lot more. Oh, and the Twilight Sparkle mod won't work for me. Neither will the separate mod.

Pros:

It looks awesome

It is a good mod to have fun with

Cons:

The hoof gets in the way when I hold a chainsaw...

Conclusion:

It's a fun reskin, but for people who use melee a lot, they might want to turn it off when they plan to get a chainsaw, but it is still a great mod!

Pros:

Great Models
Not too many Bugs
Very well animated


Cons:

No Custom Audio
Pinkie Pie having Coach's voice can be a little...odd
When using the chainsaw, my screen 50% Hoof
Models are a little large, so friendly fire is common. 

Conclusion:

Make the models a little thinner and smaller, if you can, possible get a few audio clips in, if you can. Other then that, this is an excellent fan mod for any brony. The only thing keeping it from a 10/10 is a rather annoying chainsaw bug, and friendly fire. 

Pros:

MLP: FIM playable characters
Kinda puts a smile on your face


Cons:

Characters have larger hit boxes
Characters are also 1.5x.'s larger.
both of these make it easier to get friendly fire incidents.

Conclusion:

I like the mod. I'm hoping for another one for the first 4 survivors too.

Pros:

- MLP YEA
- All my fav pony in left 4 dead 2

Cons:

- Pinkie as coach? I DONT WANT PINKIE SWEARING.

Conclusion:

Good mod but With the pinkie coach thing im just going to give it a 9.8 fruitloop XD

Pros:

- Correctly formatted and animated characters.
- Excellent HUD icons and labels.
- Easy to see ingame.

Cons:

- Huge as all hell.
- Huge FPS arms too.
- Expressionless faces are kinda creepy.
- Needs (or needed, depending on version) a fix for blood effects making the game crash.

Conclusion:

Not everyone's cup of tea, but it's a mod many people were waiting for, and seeing them happy from it is nice. Hopefully you can optimize it a bit in the future to work better than it does now.

Pros:

Smart choices in ponies.
Funny mishaps at random in-game.

Cons:

I don't see why ponies should be hated.

Conclusion:

When I played The Parish on the Bridge, Rainbow Dash randomly kills herself when I made it to the helicopter thinking she could fly away and Applejack sacrifices herself to get me(Twilight Sparkle) and Pinkie Pie to safety. Overall, I like how the mod was developed and it possibly made the bot Nick even dumber then he already is without the smart bots mod.

Pros:

Clean and Smooth models
Detailed
Cute and Colourful
Customized Incap and in-game portraits

Cons:

Most people hate the idea of ponies, but who really cares about their opinions?
I sometimes find it scary whenever I turn around and see one of the ponies just staring at me without blinking (staring into my soul)


Conclusion:

I'm not a Brony myself, but I do have friends who are and I'll say they'll enjoy this mod more than myself. 
Now all we need is Rarity and Fluttershy, then the Elements of Harmony will be complete.

Pros:

+ The prayers of the Left 4 Dead 2 bronies have been answered!
+ Nice quality models.
+ Very well done jigglebones.
+ Some of my favorite ponies!
+ Applejack replaces Ellis. Makes so much sense.
+ Lobby, HUD, and incap images included.
+ First person hooves, but see Cons.

Cons:

- No Fluttershy. I refuse to remove any "points," in this review for a con that is my own opinion. - 0.0
- No facial animations. This may not be the best thing to give the models, because of possible mouth stretching, etc., but some eye movement would be very nice. - 0.1
- Very LARGE models. This isn't really a con for me because it makes the mod funnier. - 0.0
- No voice replacements. I can understand that the fact they say nothing along the lines of any Special Infected, zombies (except for Twilight's single zombie pony line), or many instances of blood-curdling death screams. - 0.0
- First person hooves, as I like to call them, are pretty large like the models. This isn't a problem for me because I can see around them just fine. - 0.0

EDIT: I just noticed Pinkie Pie has pink eyes in her HUD image? - 0.1

Conclusion:

Amazing mod. So many bronies / pegasisters have asked for this, and Splinks never seems to disappoint.

9.8 / 10. I will use this for a long while.

For anyone who wonders which pony replaces who: Applejack replaces Ellis, Pinkie Pie replaces Coach, Twilight Sparkle goes over Rochelle, and Rainbow Dash replaces Nick. (Nice choices, by the way)!
End of results.