Reviews for Heartbeat HUD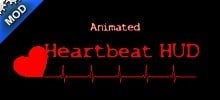 Pros:

+Good looking HUD
+Love the details

Cons:

-I would like it more if you removed the custom character and weapon icons so I could use my own. (-1)
-Animation is not too great but it's not too bad either (-0.5)

Conclusion:

All is good except for the icons. I don't like them that much so if you could remove them it would be much appreciated.

Pros:

+Animated Healthbar
+Icons (Both Survivors & Items)
+Weapon Icons
+Not too complex
+Not too simple

Cons:

-Animated Healthbar seems a little..."odd" (More info. in the Conclusion).

Conclusion:

I like this HUD. It has everything I'm looking for in a custom HUD. As mentioned in the cons, the animation in the healthbar doesn't seem fluent. Everything else is very well done.

Pros:

Nice overall layout.
Good heartbeat effects.
Nice icons for weapons / items.
Not too flashy / not too simple.
Works with no problems.

Cons:

Very few - I used it most of the time as my standard hud.

Conclusion:

Overall I really like this hud.  Heartbeat effect works - straightforward.  No complaints and high praise.  Is there a way to retain the character's name (instead of my avatar) in the game?  I've modified the hud for my own use, including custom icons, but I'd like to retain the character's name instead of my avatar.

Pros:

i like the h.b. monitor in hp bar very cool
new weapon icons in hud also good
new pics freshen the game up a bit(and btw l4d2 needs that!)

Cons:

none to speak of

Conclusion:

good mod overall i would recommend 

Pros:

Nice animations. The incapped health bars are pretty neat too. Also not forgetting the death icon used when players are dead. 

Cons:

I don't really fancy the new icons for the survivors but no points taken for that.

Conclusion:

 I understand if some of the comments made were stupid but removing those which are actually trying to help is just not right. Don't be like that loser slamatl92. You are better than that.

Great job on this mod and to be honest, you have done well for a first timer. Looking forward to seeing more of your works. 

Pros:

======= In general =======
+ Animated icons, healthbar.
+ Smooth animations if picking up props.
+ New icons included as well.
+ Not causing any problems.
+ First try? not bad.

Cons:

- See Conclusion!


Conclusion:

Is there any chance for you to make the healthbar animations, if health is green (40% or up), smoother?
But summarizingly, nice mod! Well done, never give up!
End of results.