Reviews for Barry Burton (w/fps arms, icons and name)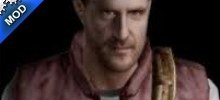 Barry Buton (w/fps arms, icons and name) Review

This is one of the better Coach replacements I think, and I've never even played Resident Evil.

Pros:

Skin.
Arms.
Expressions.
Huds.
Icons.
Name.
Over Coach, Not Ellis.

Cons:

Fire Axe is invisible in Barry's hand.

Conclusion:

Finally a complete mod that suits and change the "whole" character into the chosen mod, but the most important thing: The character it takes over. Coach is the best choice overall for the voice acting and cast.
End of results.