Reviews for Beretta 92FS (CZ75 anims)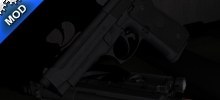 NICE

lovely reload animation
nice gun
nice animations
nice sound
nice evrything

Pros:

 - Looks nice.
 - Badass dual reloading animation.
 - Sound isn't blown out of proportion.

Cons:

 - Looks dull.
 - Walking-animation moves a lot.
 - Sound is weak.

Conclusion:

As you can see, I'm quite a bit torn about this mod, cause it looks nice, but then it also looks quite dull. As in, there's barely any shine or reflection on it, which makes it look almost plastic. Then there's the cool dual reloading animation (see video), but when walking the arms/hands/guns sway quite a lot, which is strange. And also from the video, I expected the sound to be really cool, but when hearing them in-game, it sounds like a nailgun. The audio is really clean, no blown out clipped distorted ear-piercing explosions, but it alos sounds really weak. (I could probably improve the power with the audio-file though, but I don't know how to get it.)

Overall, it's a nice mod, it works and it's not bad. But it's really held back by the cons for me.
So if you're not bothered by these things, don't hesitate to try it.

Pros:

+Good texture
+Animation is ok


Cons:

-The first person running animation is a little um "overboard" (-1)
-Sometimes hard to hear the reload sounds (-1)
-When meleeing with dual pistols the hand glitches into the gun. (-1)

Conclusion:

It's an ok mod but not something I would use.

Pros:

-Great textures
-Nice bullet ejection
-Nice flash
-Nice Sound
-Nice Color


Cons:

-nnnnnnnnnnone


Conclusion:

Awesome mod, makes me want to use the dual pistols more

Pros:

+The CZ anims + This Beretta model = Epic
+As usual from Dok, textures are great
+Sounds are bad ass and fitting
+Dem particle effects! Nice...

Cons:

-You joking? NO

Conclusion:

What Mizzy said. Lol

Pros:

- It's Beretta 92FS!
- Good looking
- Unique firing sound
- Works well
- No glitch or bug
- Use CZ75 reload animations which suit this pistol    well

Cons:

- None...

Conclusion:

Nothing special to say...... just another masterpiece came out.
Good job as always,Doktor.
End of results.