Reviews for Rainbow Dash AK47 (HyperMetal anims)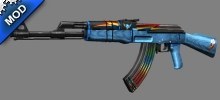 Pros:

Good anims

Good mapping and skin

Texture is good

Model is good

Cons:

Skin disappears when I download your RD Scar. -.2

Fix?

Conclusion:

Everything is good, though I wish it didn't bug and die when I install the scar.
End of results.