Reviews for HD | Browning M2 3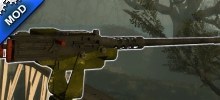 Pros:

* Realistic
* Much more realistic with the US Army logo
* IT WORKS!

Cons:

* I don't have any dedicated graphics card. NOOOOOOOOOOOOOOOOOOOOOOOOOO! (no deductions, it's a half-joke)
* None so far.

Conclusion:

... now I have more reasons to use the Browning, and make good-quality *PENTA KILLS!* Nah, just joking.

100% satisfactory gameplay GUARANTEED!
End of results.