Reviews for New Nightstalker Beretta for Pistol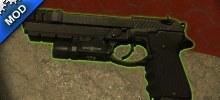 Pros:

- The Beretta M92 was always one of my favorite pistols.
- The sounds and HUD icons are quite awesome.
- Each gun has 12 rounds. In my opinion, it doesn't fit for a Beretta, but it gives variety to the pistols.
- Black, shiny finish. This is way better than chrome, silver or looks-like-plastic.

Cons:

- I really HATE the reload animations. I think, the cz75 animations would fit better on this awesome handguns. -0,5 points taken.

Conclusion:

The Nightstalker Berettas are one of the best pistol mods ever made for L4D2. The sound is great, the look is awesome. Before I found them, I've used Doktor haus' "Beretta 92FS (CZ75 anims)", which has unbelievable ugly sounds that makes the guns sound like Soft Air guns.
If you're looking for well-designed pistols, do yourself a favor and press the download button. You won't regret this.

Pros:

Gorgeous skins
Epic sound
Perfect firepower
Best handgun mod


Cons:

None.

Conclusion:

I must give this mod, a 10/10 review as I have no issues with the mod, the sound and skins are fanatic, as I will continue to use both mods, as they are the most epic handgun mods I have found as most don't really match to what I'm looking for but this mod does. Thank you for this gorgeous mod and please keep up the awesome work.

Pros:

A long awaited mod
Good sounds
Good animations

Cons:

Single pistol animations
On any screenshot, we can't see the HUD
Don't have a no-script version
Centralized more the HUD for single pistol, is too close to corner (same thing for the Magnum version)

Conclusion:

A long awaited mod, thanks. But could change the single pistol animations to Inter (same guy that made animations for Colt M16A2 reborn from Doktor Haus), and please make one without script.
End of results.