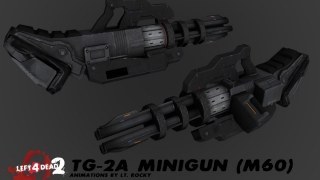 TG-2A Minigun
You are downloading as a guest.
The extended gallery contains images from all community members.
"When there's no more room in hell, Ellis will be given a steady supply of Miniguns" 
-Some book. Or was it a movie..? 

A weapon that'll be sure to bring out the Long Tall Sally in everyone, it's the fictional portable Minigun system introduced in the first expansion pack to

 F.E.A.R., now yours to bring instant fertilizer to the growing plants of America, without that sissy hippie gardener feeling. Replaces the M60 on my animations - My first animation set! My skills are a little unrefined, so please don't go expecting something five-star for the time being (I'm talkin' to you, Krycek *wink*). 

So come on in you fuckers. Come on in, Ol' Painless is waitin'. 

I sense I may have to bring a few updates to this thing, so please let me know if there are any issues with this mod. 

Credits: 

F.E.A.R.: Extraction Point - Model rip 
F.E.A.R.: Perseus Mandate - Texture rip 
Team Fortress 2 - Audio 
Grand Theft Auto: Vice City - Audio 
Left 4 Dead 2 - Animations 

Lt. Rocky - Animations; Port; Rig; Compile; Texture Edits; Materials; Jesse Ventura
09/17/14
========

Initial release
Pros:

*Extremely well ported
*Rotating Barrels!
*The gun is HUGE and justifies all of the "Now this a a BIG gun" comments
*Its a freaking MINIGUN, c'mon...

Cons:

*The firing sound is quite a bit louder than other guns, and hurt my ears after a few minutes of use at my normal volume  (-1)
*It's huge world model means it often clips through floors, walls etc.  This is an unavoidable consequence of changing world models and isn't something I care about much, but others may... (-0)

Conclusion:

I'm sure everyone who has played L4D ever has always asked: 

"Why can't i just pick up that Minigun and carry it around?  Who doesn't want to go to town on zombies with a freaking MINIGUN."

Well, those prayers have been answered, and hallelujah is it good.

My only request is that you look into the sound issue.  It may have just been me, but the sound of the gun is fairly grating.  

However considering the potential variety in sound setups, what may sound awful to me sounds awesome to someone else, so definitely do not let this issue dissuade you from downloading this mod.  Its AWESOME.
File Details
View Changelog
Version 1.0 Complete