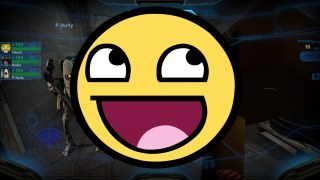 Awesome Fun Pack Part 1 1.0
You are downloading as a guest.
The extended gallery contains images from all community members.
This "mod" is rather a HUGE pack that i did pack together wich adds alot of funny mods that fit nicely together, plus some mods to make the game better or balanced. The mods range to 60 mods (plus one that is my own) and i will list all mods and its developers here. Also a side note: The pack is splitted into two files and together they are 1.6 GB large and thereby they exceed the upload limit for the pack, wich means i gotta upload the mod as two parts.



Note: As its apparently not even allowed to add links into the description, i am pretty limited in crediting the devs, as the forums cuts my text and lots of stuff is missing at the end, and posting a pastebin link isnt possible apparently either. Therefor i will need to literally split up the dev name list into this and the 2nd part of the mod -.-

Mods List (Part 1 and Part 2): Part 1
Halo Deluxe HUD: MiserTrioxin
Admin System: Rayman1103
Aperture Science Grenade Launcher: Sciaenops
Ban Hammer: Anfrien
Borderlands Nisha: xDShot
Bosswave Tank Music: LokeYourLord (my mod)
Candy Crowbar: Yogensia
SAKO 41: Kainzorus Prime/Xenecrite
Chocolate Charger: WeGotDodgsonHere/Qwazzy
Coach Ghost Voice: BarisTheBlade
Dick Figures Concert: Carloxxx_the_pon3
Totally Fab Particles: Jules_Cools
Duke Nukem Gold Pistols: K1CHWA
Ellis Soap Voice: BarisTheBlade
EMR-7 Rifle: greenhood
Francis Deadpool: Splinks
Robbie the Rabbit (Gnome): Doktor haus
Grumpy Cat Flashlight: Traxellus
Hitler Hunter Sounds: Neechyou
HK SL8 Rifle: Krycek
Hunter Hitler: Splinks
Informal Skyboxes: Descarado
Bill Jigsaw: Disa'
Zoey Jill: AvengedDeathAlert
Jockey DiddyKong: Stay Puft
Justin Bieber Witch: Totakeke
Krieg Charger (skin only): BaseKillerWolf
Carbonfibre Spas-12: Sodamachinestudios
Legendary Shotgun Orig: Spark Unlimited
M45D Shotgun: MonkeyRebel117
Golden M60: K1CHWA
-------------------------------------


Thanks to all the developers that have made those awesome mods, without them L4D2 would have lost its charm for quite some time ago, thanks for putting your time into this game to make it more awesome, seriously thank you ;)

ENJOY THE PACK :D



(If you have any questions or are a developer and you dont want your mod in this pack, then just message me i will try to reply as fast as possible)
11/27/14
========

First release of the pack. Updates are planned if needed.
Wacky

This is an entertaining pack of mods which makes playing a map for fun with all the weird & wacky mods in the packs.

My only problems are that some mods don't seem to work properly. The teletubbies infected seem to have a weird hitbox/disjointed sounds/black squares appear when you kill them.

The cat flashlight makes it harder to see where you're going. Also the teletubby infected are abominations!!!.

It would be better if you could pick which mods you'd like on while playing instead of the entire pack as some of the mods get kind of annoying after a while.
File Details
View Changelog
Version 1.0 Complete