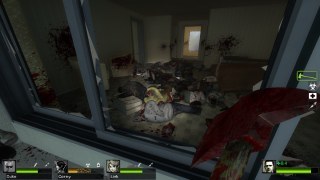 Realistic Ragdolls
You are downloading as a guest.
The extended gallery contains images from all community members.
This should completely remove ragdoll despawning + gib despawning, should include debris from doors. Also increases gravity so zombies and gibs shouldn't "float" anymore and should fall realistically. Ragdoll clipping is also added, although buggy. For instance once piles get to a certain point and you kill an infected while he's in the pile he will just die standing and stay that way. 



This edits the gamemodes.txt file so anything else that does that will be incompatible with this mod. Improved bots and Survival AI are two of these.

If you have effect detail set to anything other than high, gibs and what not still despawn.

You don't need to be in a listen server for this to work either.
adds following cvars:

//Ragdolls
g_ragdoll_fadespeed 0
g_ragdoll_lvfadespeed 0
cl_phys_props_enable 1
cl_phys_props_max 420420420
cl__ragdoll_max_remove_per_frame -1
cl_ragdoll_max_fps 2
cl_ragdoll_min_fps 1
ragdoll_collide 1
ragdoll_velocity_multiplier 24
phys2_ragdoll_self_collision 1
phys2_ragdoll_drive_type 2
cl_ragdoll_gravity 772
cl_ragdoll_force_multiplier 24
cl_ragdoll_forcefade 0
cl_ragdoll_fade_time -1
cl_ragdoll_limit -1
cl_ragdoll_maxcount 420420
cl_ragdoll_maxcount_boss 420420
cl_ragdoll_maxcount_generic 420420
cl_ragdoll_maxcount_gib 420420
cl_ragdoll_maxcount_special 420420
cl_ragdoll_physics_enable 1
cl_ragdoll_reload 1
cl_ragdoll_version 1
ragdoll_sleepaftertime 420420
r_propsmaxdist 420420
violence_agibs 1
violence_hgibs 1
z_gib_despawn_time 420420420
z_discard_min_range 420420
z_discard_range 420420
z_fatal_blast_max_ragdolls 420420 
z_fatal_blast_min_ragdolls 1
z_ragdoll_discard_range 420420
z_ragdoll_impact_strength 1000
z_gib_limb_distance 2147483647
z_gib_limb_distance_buckshot 2147483647
z_gib_limb_distance_headshot 2147483647
z_gib_limb_distance_headshot_zoomed 2147483647
z_gib_limb_distance_zoomed 2147483647
z_gib_limbs 1
03/28/16
========

Fixed some stuff

03/24/16

File Details
Realistic Ragdoll...
(4 KB)
View Changelog
Version 4.20 Final