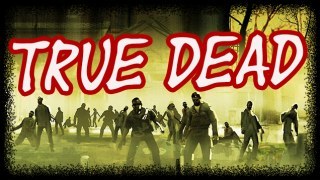 True Dead
You are downloading as a guest.
The extended gallery contains images from all community members.
No bots, No specials, No random huge hordes. They are slower. But gun fires attract them. And melees have durability.
(THIS IS A MUTATION, IT DOESN'T CHANGE YOUR MAIN GAME) 

- Gun shots will attract surrounding zombies.
- Third Person Camera System.


- Item drop system.
- Only common infected.
- Zombies are slower and can't see well but they are stronger. 
- Zombie hits don't make you stop completely in place anymore.
- Highly reduced Non-Headshot Hits; (Not headshot only, but close)
- No survivor bot. You can play with your friends. (You can also !addbot)
- You can crawl when you get down. (if there is another survivor.)
- Friendly-fire Increased.
- Third Person shotgun sounds fixed.
- Guns have a little more realistic recoil now.
- Lost cries of Characters during solo play removed.
- There is no Tank anymore. (scripted tanks can be seen for a second at spawn don't worry)
- Realism version is included. (Head popping pistol headshots are much more satisfying)
(More Details in workshop)

You can start True Dead in mutation menu or from console by command if you can't find there.
command line example: "map c1m1_hotel truedead" / "map c1m1_hotel truedeadrealism"

_______________ Weapon/Item Drop ______________________________
True Dead has a Weapon / Item dropping system as in the CounterStrike.
press G (chat !g) to drop items. (G is the default key in the CounterStrike for this.)
- since L4D2 doesn't have this drop system they made most primary weapon spawns are elastic. 
(weapon will returns its first place when you drop) But you drop and give your items to your firends now.

_______________ Included Third Person Camera __________________
True Dead has a Third Person Camera System. (with proper sniper zooming)
You can switch between three different modes. 
- First_Person, 
- Third-person Shoulder Camera (like Resident-Evil) 
- Third-person Far Camera (Like GTA-V or MMORPGs)
chat !v (or press V) to TPS view. 
(if it is your first run with this mutation. This might be usable only after you walk a little.)
_______________________________________________________________
Thanks to Neil - 119 - I have learned how to make a "Gun Shot Noise" mechanic from Stranded.
08/07/17
========
v2.2
Debug; DEBUG messages added for some hint events.

Fix; Last update had messed up the finales, they should be completable now.

File Details
mutation_truedead...
(485.1 KB)
View Changelog
Version 2.2 Beta