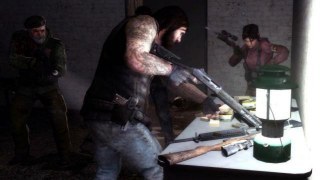 The Beta Mutation
You are downloading as a guest.
The extended gallery contains images from all community members.
A mutation that attempts to recreate the Left 4 Dead Beta experience. A list of changes are below:
+Only Boomer, Smoker, Hunter, Tank, and Witch spawns
+L4D1 weapons/items only
+Shotgun and Autoshotgun max ammo has been increased to 128
+SMG max ammo has been increased to 480


+Pistol max ammo has been set to 240 (Works but there's no way to know ammo count)
+Survivor shoving
+Female Boomers never spawn
+No cooldown/fatigue from pushing
+Glow on far away items have been disabled
+Death notices for bots have been disabled
+No more floating names above players
+Pipe bomb timer has been reduced to 0.7
+Survivor crawling
+Smokers can voluntarily release a survivor
+Smoker tongue drag speed has been drastically increased
+Tank health has been increased to 9000 (Better bring molotovs!)
+Tanks do not slow when shooting them.
+Boomers deal lots of damage to survivors who are near them when they die
+Players ragdoll on death
+Left 4 Dead 1 population restored
+Players unable to walk through each other, fit with unused voice lines! Suggested by Gyroic
+Tanks no longer shake the entire screen when they're around
+Red light on witch has been removed
+Cinematic lights on pinned survivors has been removed
+Some cvars are rebalanced to l4d1 stats, such as the minigun and tank fire damage
+Green glows around survivors and white glows around pinned or incapp'd survivors.


File names:
"beta" for coop
"betanocollisionedition" for coop with no survivor collision.
"betav" for versus mode
To access these mutations via console type: "map mapname beta" or "map mapname betav"

I DO NOT AUTHORIZE ANYONE, EXCLUDING MYSELF OR THOSE PERMITTED, TO UPLOAD MY ADDONS ON EXTERNAL SITES LIKE STEAM OR MOD DB.
10/22/20
========

Beta Mutation: TLS Compatability Hotfix and General Pre-3.0 Cleanup

====Generic====

File Details
beta mutation.vpk
(34.8 KB)
View Changelog
Version 2.4.3 Beta