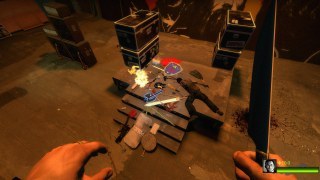 Melee Mega Pack (AIO)
You are downloading as a guest.
The extended gallery contains images from all community members.
This is an all in one mod that contains all necessary scripts and models to unlock all official melee weapons and add OVER 40 additional melee weapons to official campaigns. ALL CREDIT GOES TO ORIGINAL MOD AUTHORS.

To answer any questions:
YES I know its buggy


YES I am working to fix it
YES I am working to add more weapons
YES I am open to suggestions. I will do my best to add as many as I can. 
To spawn weapons, use 'give' command followed by the desired name below.

Problem with some bugs: The game can only handle so many different weapons before it starts confusing the identities. This is why some weapons are placed over the wrong base weapons. Nothing I can do to fix this issue that I know of as of now. 

Valve/14 original weapons:
chainsaw;
fireaxe;
cricket_bat;
baseball_bat;
crowbar;
electric_guitar;
frying_pan;
golfclub;
katana;
machete;
tonfa;
shovel;
pitchfork;
knife;

Valve/Removed Weapons:
riotshield;

StayPuffed/Turdburglar:
flail;
battleaxe;
fubar;
garbageman;
sword_shield;
mace;
mace2;
nail_bat;
tonfa_riotshield;
wrench;
torch;

NickNak/Death Mountain:
deku_stick;
hylian_shield;
master_sword;
mega_hammer;
mirror_shield;
rockaxe;
biggoron_sword;

RT Frisk/Suicide Blitz 2:
foam_finger;

byblo/kink:
bamboo_stick;
nail_stick;

Christopher Collini/Blood Tracks:
nail_board;
sledgehammer;

Other:
gloves;
guitar;
katana2;
kitchen_knife;
pot;
woodbat;

Roku Melees:
bajo_roku;
hammer_roku;
kukri;
leon_knife;
oz_roku;
stun_rod;
zuko;
water_dagger;
zuko_knife;
sokka_sword;

Green:
axe;
legosword;
slasher;

Bonus/Me:
Lightsaber;
11/10/20
========

No revision notes have been added by the developer.

11/10/20

File Details
meleemegapackv3.5...
(80.8 MB)
View Changelog
Version 4.3 Complete