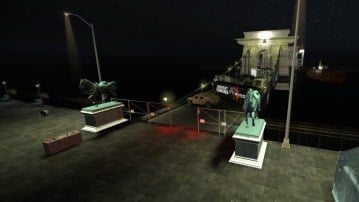 Sweet Budapest
You are downloading as a guest.
The extended gallery contains images from all community members.
This map is based on the Hungarian city of Budapest.


There is only one map, but the map is large and consists of 4 big events.

1: panic event in square until gate opens.
2: Find unlocking button for locked door in building
3: cross Széchenyi bridge (gauntlet event)
4: scavenge finale in Parlement

There is no rescue spot. instead i placed a lot of Revive kit. So if your teammate dies, you have to revive it at that time.
It is my first work, and I made it while studying Hammer Editor, so there must be some shortcomings.
Night City
Budapest
Bridge
Castle
Parlement
Building
05/06/23
========

Reduced finale gas cans from 8 to 5 and prevented 2 tanks from coming out.
Place the throwables in the middle of the finale space.
Added supplies in the middle of the bridge.

Not bad for a first campaign

Well, as this is the author's first campaign, I'll talk more about the playability & some problems to fix instead. Actually this campaign is not bad. It's playable.Bot navigation is good in overalls except at some areas (I'll explain about this later). Supplies are enough, but some areas might need more supplies added (I'll explain about this later too). As for hints, it needs more hints. As for the finale, well, I think it needs to be balanced more.

For the problems, here's the list of problems I found so far:
1. Bots can't pick items in the saferoom. They only pick when they're pushed near the items.
2. Certain bots have weird navigation inside.
3. The bridge needs more supplies, as there's endless incoming horde during crossing the bridge.
4. The finale has too fast tank spawn interval. In my play, I fought more than 4 tanks just to fill up 8 gascans in Singleplayer.
5. The rescue boat needs more clues about what to do to escape. In my play, I almost did a leap of faith into the boat just because there was a quite wide gap between the boat & the dock. Thankfully I only needed to gather all survivors near the boat.

I added a screenshot on the review about the problems that need to fix, to make them easier to check.

This review was posted before the latest release.
File Details
View Changelog
Version 1.5 Final