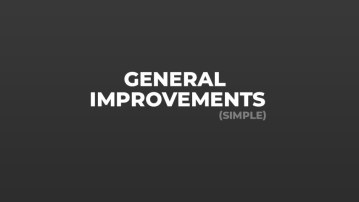 General Improvements (Simple)
You are downloading as a guest.
The extended gallery contains images from all community members.
SUMMARY
Makes various improvements to the game. 

Includes my "Improved Bots (Simple)" addon. 




FEATURES
• Moved melee weapon to its own slot. (Press 7 or scroll between primary weapon and pain pills) 
• Melee weapons and throwables can now be used while incapacitated. 
• Players can now crawl slowly while incapacitated. (Only with W key; use mouse to steer.) 
• Players are no longer slowed when they receive damage. 
• M16's magazine size reduced from 50 to 40, damage increased from 33 DPB to 44 DPB. 
• Magnum's shooting speed increased, making its DPS similar to dual pistols. 
• Carried ammo for pump shotguns increased from 56 to 72. 
• Ammo upgrade packs are now carried in the same slot as pills. 
• Mounted guns take 20 seconds to overheat, 8 seconds to cool down. 
• L4D2 mounted gun's fire rate increased by 50%. 
• Reduced fall damage and increased distance to receive fall damage to be more realistic. 
• Chainsaws cut through hordes a little more smoothly and have unlimited fuel. 


NOTES
• Works for all official game modes. 


SUPPORT
I try to offer quick support for all of my addons. If you have any issues or questions, please post a comment and I will respond as soon as I can.
For more information on what's included in my Improved Bots (Simple) addon:
http://www.gamemaps.com/details/4293
Pros:

+Crawling & melee/throwables while incapped.
+Separate slot for melee weapons.
+Special ammo on misc slot.
+no slow down when receiving damage.

Cons:

-MP5 replacing the SMG.
-Magnum feels op with the new firing speed.
-Weapon damage/clip size changes.
-AI mod should be kept separate.

Conclusion:

I really Love this mods but some of the changes doesn't really go with my style, I'd love it if you could make a different version that doesn't change the stats of weapons or have it as a separate mod, I like to keep things like that as the vanilla game, also the MP5 shouldn't replace the SMG, there are far more skins for the SMG and using this cut my choices of customization, and like the other reviewer said the AI improvement should be kept separate, I'll still give 4 stars the mod it self is great but like the other reviewer said some stuff should be separate so it doesn't conflict with other mods.

Yup, 100% agree. Mp5 replacing SMG .____.
File Details
general improveme...
(19.6 KB)
View Changelog
Version 1.0 Complete