Reviews for Deathcraft II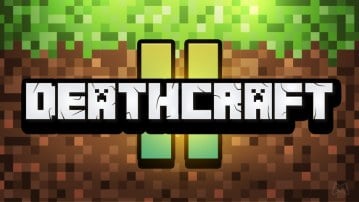 第四关崩溃,可以这样修复

第四关崩溃,可以这样修复
选项,视频,高级设置,可用的页池内存改成低,此时不会在发生闪退现象

Beautiful + Near Perfect Campaign

Played this map a few years ago, never got to review it (and didn't have the skin changes etc. at the time). My thoughts after replaying it:
-
-
Pros:
Minecraft Map Design/Weather Effects
Minecraft Weapons & Pickups
Minecraft Zombies
-
Cons:
Unfortunately, map 4 crashes past a certain point early on
Finale was too easy and a bit bland (although the mc boat was a nice touch)
-
Final Thoughts: It's a GREAT Campaign. Very fun, doesn't overstay it's welcome. The environments are amazing to explore. Apart from crash and a bland finale, this map is pretty much a masterpiece. 
-
-
P.S. - If you get the "server is enforcing consistency for this file" error, simply type "sv_consistency 0" into the console

I think TLS Update made the campaign make map 4 crash but that's just what i think

Not sure if this reply notifies you @nonagon12 (since I can't click reply to comments for some reason), but I skipped map 4. Maybe there's a fix if you dig deeper in the comments considering this is from 2012.

is there any way to avoid the crash on map 4? mine crashed just rn (or should i just skip map 4? if so its a bit disappointing)

good map

hi i just wanna say its a nice map its good but i have a problem when the panic attack happens my game crash i know this isnt you're fault and i know its my computers fault thank you


                                                                                                                                                           reviewer
                                                                                                                                                          bluemaster

A fun and enjoyable map

One of my most played custom map, and I still enjoy playing it to this day.

Impenetrable hordes in the thick snow, woo

The full version replaces all Infected skins with Minecraft-ish ones, with weird hitboxes. To make this more fun, half of the population, including hordes, are actually Riot Officers. You WILL run out of ammunition. Some maps are rather unintuitive, most of them are cramped, claustrophobic corridors or caves. The supplies are plentiful, but the unique events are either straightforward or take too long. The no-mods version has a lot of missing textures, although it's not gamebreaking and almost fitting the setting. I liked the effects, the idea, the build quality of some maps, after all this is an homage to one of the most popular and unique videogames ever. There's just too little space and too many backtracking to my taste.

An inmediate instant classic!

This is one of the best L4D2 Custom Campaigns I've ever played! 

It was just lovely and combat was great, but the whole modification of textures NPC'S and the classic survivors was just absolutely delightful! Even the special infected were transformed into the Minecraft concept and it was just awesome! 

Combat was fair regarding difficulty skills, and the little puzzles you have to solve in the game were perfectly fit into the gameplay itself. The journey felt OK and always inside the Minecraft universe. The escape was well balanced and with a clever strategy, you can overcome it perfectly well. 

All in all, this is an absolute MUST PLAY! Campaign! don't hesitate in playing it!

Review

Great campaign. However, the optimization was poor in some areas, mainly in chapter 2 and 3. Ranging from about 30 ping to 60 ping on a local server. Also, the Diamond Armoured zombies on chapter 1 were a pain in the backside to deal with, I assumed they were rust remodeled Riot Zombies so I tried shooting them in the back, but no luck, sometimes it worked sometimes it didn't. Other than that, loved it. Great custom models and textures. Great map design. Plenty of supplies. No bugs/glitches. No botnav errors. Nice work.
End of results.