Reviews for Left 4 Mario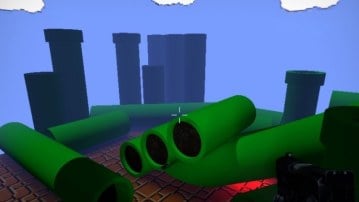 A fun campaign for Super Mario fans

OMG, it's Super Mario!
However, it's not suitable for bots.
Also, it's too easy. It would be worth playing multiple time on expert, but not on lower difficulties.
Map design is mediocre. 2D Mario levels don't seem suitable for making 3D maps.
But it's still a quite classic and fun campaign.
Yeah, it's kinda boring if you ain't a Super Mario fan.

Fun

This campaign is fun to play except for one thing. Bots usually die from falling off a high place and failing to jump on platforms and that's just it. For the third map, smokers and chargers scare me the most in that part especially you have to work on your parkour skills and so as your survival.

Review

Really fun and well designed, somewhat of a platformer campaign but aint too bad in L4D2, bots can struggle to navigate sometimes, but it's not that bad in all honesty. Love the mario theme, and it was pulled off very well, joy to play, one of my favs!

いいマップ & ややストレス

非常にいいマップ構造で、
マリオに対する愛情が伝わってきました。
作るのに苦労したと思うし、プレイしていて目の保養になりました。
ㅤ
ただ、シングルプレイでクリアした感想ですが、
けっこうストレスでした。
ㅤ
せまい所にタンク・ウィッチ・スピッター。
というかマップ中、全部せまいんで、きついです。
広い足場は存在しないので、
基本上記の特殊が現れると死にます。
ㅤ
あと、マリオステージだから仕方ないのかもしれないけど、
BOTどもが落ち放題の死に放題。
奴らはまともについてきません。
  ハシゴ = BOTの死
小さな足場 = BOTの死
クリアしたときは、自分以外全員死んでいました。
ㅤ
シングルプレイ向けに作られているとは言い難いマップであり、
ぼっちのシングルプレイヤーとしてレビューさせてもらってもいいなら、
「構造の素晴らしい、しかし無駄に難度の高かった、惜しいマップ」
だと思います。
ㅤ
でも楽しめました ✌('ω')✌

Mama-mia

Good: It's-a-me Mario themed map.
           Takes me back to playing the game as a kid with the Mario game mechanics.
           Using the mods to make the infected into enemies from the game adds a nice touch when playing this.
           Pipes & piranha plants are in this.

Bad:  The jumping parts seem to be a bit frustrating with the bots either missing the jump completely or they hang in mid-air.
           The ending was a bit weird,had hoped for a similar thing like when you beat Bowser you reach the end with Peach.
         It's a fun campaign, I like to replay it every so often.Only improvements would be maybe if you could add in the music or sounds from the game. e.g Jumping sound or the stage music.

MARIO

Really enjoyed this map :) Thanks for this great map.

A very fun and entertaining Mario-themed campaign

I'm impressed by how the author used mostly low-quality textures but still looked great on the map. The floor, the skyboxes, the green pipes, very creative stuff right there. I don't mind the low quality textures at all because they were themed. Some of Mario game mechanics were well used, such as the boxes that drops items and zombies, the piranha plants, the pipe-climbing route and some other. They were fun puzzles, such as the moving floors which the bots survived for some reason. I like how the gravity jumps were placed around the maps, the instructions were easy to follow, that I had no problem with the gameplay at all.
 
Some of the map parts were a little bit too dark, which I think was intentional. I liked how the author make use of the box as a survivor rescue closet, brilliant stuff to have on. The growing tree and tank placement in the finale was great, although I did not understand the ending a bit, which leads you to the plain white space, I honestly think it could be improved.
 
I'd say this is a fun and enjoyable campaign for Mario lovers, very relaxing atmosphere it had, not that many infected spawned so it wasn't really a difficult one, I enjoyed playing this.

Fun, but only for those with Mario nostalgia.

PROS
Mario, obviously. The atmosphere and layout are very well done, feeling like Mario but also like L4D as well.
Finale is fun.
Shooting blocks for items.

CONS
Bots can't handle the double moving blocks in map 3- probably got lucky one of them survived.
Fires inside the 1-4 castle wreck bots
Map 1, if you climb the wrong warp pipe, the bots get stuck and can't get down the ladder easily. Definitely follow the arrow instead of exploring at this point.
Some points it's just too easy for a Charger, Smoker, or Tank to send you falling to your doom.

CONCLUSION
Mario fans will enjoy, even with the glitchy bots. Without being a fan of Mario, this is not a terribly exciting campaign, and the bot problems would keep me from replaying. However, considering how different L4D is from Mario, I'd have to say the botnav is as good as possible and I'm impressed it was as good as it was- Map 3 is really the only problem and by far the worst map.

Pros:

-It's in a Mario setting
-Breaking the blocks for items
-Pretty Fun

Cons:

-There were A LOT of glitches/lags
-Zombies would randomly appear in my face or on me a times.
-I felt like some things could've improved on the levels a little bit

Conclusion:

Pretty Fun, Not a campaign I play a whole lot but I will play once in a while. It had a lot of Mario creativity but there were a lot of glitches. 

Pros:

Has a Mario theme 
Destroy ? blocks for gear



Cons:

Had a slight problem with CPUS taking damage for no reason.
The finale is a little dark.

Conclusion:

It's a good map fun to play and not too easy. I will play it at least a second time.

Pros:

Great concept
Light size
Some cool gameplay details like low gravity in one point and alternate routes on some jumping parts so if you fall down, you don't have to come back and jump once again
Shitload of weapons and supplies
Breaking blocks to get items is the coolest thing I've ever seen in custom campaigns
Game actually awards players if they want to explore map (I mean 4 hidden medkits on 2nd map)
I was amazed on how well bots worked on this map - despite this I preferred to just stop them before platforms and teleport to stable ground
Very nicely made finale map, also rescue "vehicle" was a great idea
Dead Mario squished under collapsed tubes was one of funniest things I've seen in game :)

Cons:

On 3rd map, when you're getting deeply low after starting point it's very easy to hang on a ledge at the top of that... huh, tower-thing?
After last update (July 2, 2013) flame castle is next-to-unplayable cause of incredibly bright screen - flame trap in corridor is actually impossible to see
For some reason map didn't want to start at first time - I was getting an error about none map specified, but never mind - it worked after restarting game.
I like easier maps more than "challenging" ones, but Crescendo Event on generator in 2nd map spawned only 15-20 zombies

Conclusion:

After all, campaign is actually bug-free, very funny to play and not too much hard. Deserved rating 10.
And this was said by guy who hates Super Mario Bros. game. :P

Pros:

I absolute love this map. It reminds me when I was younger, and I used to play Mario alot. I love how you can break the blocks by shooting them to get something random. When the piranha plant comes out of the tubes, and I LOVED the finale. This map was awesome. And the environment is just awesome.

Cons:

It made me upset when I saw that Mario was dead. Even tho I didn't show it in my video. The CPU's kept falling down the tubes, downing themselves, and the ledges, they can die from that if they are stupid enough.

Conclusion:

I absolutely LOVE this map. I love the Mario Brothers, Mario fans, this map will not disappoint you. It is absolute awesome, I can't wait to play this again! 

Pros:

MARIO!!!!
I love this campaign. I just can't say how much in words.
Question mark boxes!!!

Cons:

I crashed 1 time on finale. But I dont care I love this campaign!!!

Conclusion:

OMG!! OMG!! I love this campaign sooo much, I am freaking out about it right now!

Pros:

Awesome visuals

Platforming

Great idea/theme

Monsters and traps from Mario such as Piranha plant and red shell attack in game. 

Awesome if you include custom Mario characters

Cool hidden features like question mark boxes containing items or zombies and even your revived friends. In addition, each map concludes with a jump on the flag and the safe room is the castle. 


Cons:

Platforming aspect is strictly for multiplayer. Single players will really suffer in here. I was lucky enough to go with a friend, but the AI cannot jump for the life of them. 

There is a custom intro poster, but, IMO, it looks terrible. Like someone cobbled it together in the last minute. 

The finale's challenge is lessened a little by the fact that you know you're supposed to stay by the vine as that's your means out. When it comes time to leave, everyone is already at the leaving point. 

The finale is cool, but the ending is messed up. You jump off the vine into the outside world and it's just blank area. You see the hole in the ground, some sky and blankness. Kinda puts a stain on the whole experience. 


Conclusion:

 This is an awesome campaign that will be great for any Mario fan. AI could use some schooling in jumping and the ending needs to be fixed, but it's still worth a recommendation. 

Pros:

+ Blocks containing weapons
+ Mario theme
+ Platforming
+ Feels unique

Cons:

- Linear at times

Conclusion:

Loved this campaign, Download now!!!

Pros:

Awesome retro feeling ;)
Really beatiful objects
Awesome platforming
All in all a very fun map!
cool ending

Cons:

bots easily kill themselves

Conclusion:

Download it and kill zombies the way a plumber would do it!
End of results.