Reviews for HD M4 Super 90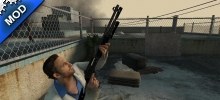 Pros:

Nice darker shade
No new animations
Updates Shotgun with more detail if you want a better looking game.

Cons:

The sound of the shotgun firing sounds artificial.

Conclusion:

Good model, but the sound of the shotgun firing kind of spoils it. Fixable though, so it's not that big a deal.

Pros:

Little darker, makes it nicer.
Sounds included and very well chosen.

Cons:

Sounds bleeps on random occasion.

Conclusion:

Great for a change, if you like the default model still and rather not replace it but trying to make it nicer. This mod is the perfect choice. snd_rebuildaudiocache might be required to fix the constant bleeps, it happens when freshly downloaded.

Pros:

Very nice new shotgun sound, including reloading of shells. Texture is a little bit darker but more so would be better! Even if it's a shade or two.

Cons:

Needs to be slighter darker shade IMO! - hope there's an update :)

Conclusion:

Very nice upgrade to the auto-shotty, good skin and great sounds make this a nice addon! Great work!
End of results.