Reviews for Naniwa City (Fixed)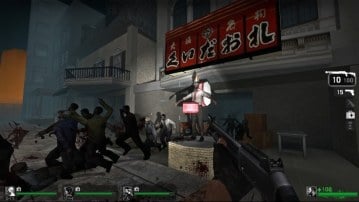 Review

Yeah, it's alright. Definitely not my favourite campaign, not too bad though. A lot of the areas are pretty bland and too open, which I generally do not like in a campaign. I played Huckleberry's version back in the day and that one had an unbeatable finale, so it's good to see it was addressed here. One thing I would definitely change is the HP of the metal door on chapter 3, shooting that thing is pretty dreadful and takes 3-5 minutes sometimes, I'd either do that or turn it into an automatic panic event, but either way, the campaign's alright.

Good classic campaign

This campaign is one of L4D1 campaigns that I played back then when I decided to play many L4D1 campaigns without porting properly & simply by depending on "Missing Content Fix" to fix most missing textures. Now that the real proper port is available, I won't need to play the L4D1 version again. Well, this campaign is playable. Bot navigation is good. Some supplies are scattered at some areas.

However, this campaign has many empty rooms & areas, especially inside the mall in map 1. Well, it's one of common things to see in L4D1 campaign after all. Some hints & glows might need to be added as some switches are without glow. For example, in map 1, the switch to open the rolling door in the beginning of map doesn't glow, as well as the switch to turn the generator on. Players who play this campaign for the first time might be confused for awhile in map 1, at least until they see the cables. Another thing is the mission to destroy a wall in a certain map. There's no hint there, so it might lead to confusion for awhile. There's also horde triggered early in maps other than map 1, but I think it's not a big problem as survivors are still inside saferoom & the horde will stop in few seconds.

Other than those problems about glow & hints, this campaign works well. I hope that there would be more ported L4D1 campaigns in the future.
End of results.