Reviews for chimera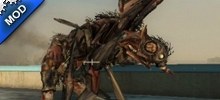 More RE mods for my collection!

I love using the RE mods for when I play the custom campaigns & this fits in great. 

My only issue is that the mod is still enabled despite me turning it off so it overwrites other jockey mods I have. I tried doing a fresh reinstall & cleaning my addons folder but it still happens, no biggie but it's odd.

Pros:

Extremely detailed
Scarier than the original jockey
Sound mod available

Cons:

Upon death, model looks like he's planking
No points off

Conclusion:

Very great model, I plan on using it for a long time to come.
End of results.