Reviews for Reporter Rochelle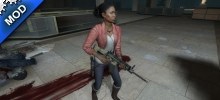 Pros:

+Well-made
+FPS arms
+Jigglebones
+Fitting

Cons:

-Can't find any

Conclusion:

This skin ain't half bad. She looks more appealing in these clothes. Usually when I see Rochelle, I think "Ew...". With this skin, I think "Not bad". This skin also does match Rochelle. Good Job.

Pros:

- Looks great
- Good textures
- Stylish
- Fits Rochelle
- Works with makeup mods
- Jigglebone earrings! (Usually I hate it when modders add jigglebones to her earrings because they jiggle so excessively it's unrealistic, but it looks so natural and perfect on yours!)
- Jigglebone bracelets
- You updated it and fixed her wrists!

Cons:

- This time it looks like she had a shadow but her weapon didn't (I didn't have a weapon mod on)

Conclusion:

My favorite Rochelle mod! Looks great! When I wanna mix it up a little I put her in this cool outfit!

This review was posted before the latest release.

Pros:

-MW3 content. Nice.
-The outfit fits well with her career as a News Reporter.
-Facial anims and FP arms.


Cons:

-The left wrist is bugged, as mentioned in the comments below.

Conclusion:

A decent replacement model for Rochelle. Her fans will definitely like this. There's one bug though: the left wrist seems to be glitchy.

Once the single bug is fixed, this could be one of the best rochelle mods out there. 

This review was posted before the latest release.
End of results.