Reviews for Battlefield 3 Soundmod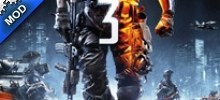 Pros:

Battlefield 3 sounds!
Makes weapons feel more powerful.
Sweet Quality.
Gives me a reason to use dual pistols. :D

Cons:

G-launcher explosion is too quiet
I hear a weird beep whenever I pull out the Uzi
The echoing doesn't fit

Conclusion:

It's a great mod, you barely notice the cons anyway, if the echoing is less, "echo-ish" and the G-launcher explosion were louder, I'd give it a 10/10!

Pros:

Sounds GREAT
good quality


Cons:

would prefer everything to be louder especially explosions

Conclusion:

Fantastic mod! 100% improvement to the game sound. only complaint is that the sounds are louder

Pros:

Feels a lot more better.
Loud and Clear.

Cons:

The firing echo's still act into building and closed rooms.

Conclusion:

Just perfect, but if it's ever possible to make the sound echo less open into buildings it would be awesome.

Pros:

- Sound fits better with L4D2 than the default.
- All of the audio is crisp and clear.
- Gives me a reason to pick up an AK-47 and blast a Tank back to hell where it came from. :3
- Dead on with the BF3 Sounds.

Cons:

- Nope.avi

Conclusion:

This is my favorite weapon soundpack, and for that, it stays as a permanent mod in my collection. Very well done. :)

Pros:

Weapon firing sounds are from BF 3, course they are great.

Cons:

None of the reload sounds are from BF 3. (No choice I suppose. I'm assuming the reload sound times of BF 3 does not match those of l4d2)

Conclusion:

This is a great sound pack hindered by lackluster reload sounds. You can find clearer and crispier reload sounds from other authors, i.e Doktor Haus. I implore the authors to post another BF 3 sound pack consisting of weapon firing sounds only and preferably in separate files (none vpk.) to allow freedom of customization.

Pros:

bf3
high quality sounds
no beeping
sound for the silenced smg fits perfectly (especially with the p90 mod)
fits perfectly

Cons:

what cons


Conclusion:

a sound mod that combines 2 of the most awesome games

Pros:

======= In general =======
+ Amazing sound quality.
+ Replacement for all (?) gun sounds.
+ No bleeping sounds or anything like that.
+ Reloading sounds included.
+ Great quality, great game, great mod.

Cons:

- None.

Conclusion:

Just fantastic. Was looking for a sound mod like this, suddenly I've found it. Great work y'all!
Keep up that great work.

Pros:

gives a different feel to the guns
sounds reminiscent of something realistic

Cons:

sounds EXTREMELY quiet
echo is way too overdone for some areas
sounds like someone from 50 feet away is firing the gun, rather than you
sounds sharp but weak

Conclusion:

I can understand that you took the audio from the battlefield game but please try not to copy paste, a gun in a swamp compared to a gun in the desert would have a much different sound, preferably the echo and sharpness of it, but the guns shouldn't be so quiet in general, if people would like them to be much quieter since these sounds can be counted as some of the majority of the effects, they would turn their sounds down. 5.5 for idea but little effort

Pros:

+ Sounds are astonishing
+ Better than other BF3 sound mods


Cons:

- Nope

Conclusion:

Best.BF3.SoundMod.Ever! Im keeping this one in my addons forever

Pros:

+ HD gunfire sound's
+ Making the game much more realistic
+ Real life gun sound's
+ Making you feel like a badass zombie killer

Cons:

- None

Conclusion:

Keep the great job up and running... Because this mod is the best weapon sound mod's ever made to l4d2...
End of results.