Reviews for Let's Build:Deconstruction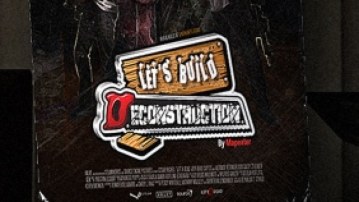 Review

Check "Let's Build:Deconstruction 2" review lol

Pros:

- Its fun, Especially in finding the parts

- Infected flood, It adds difficulty to the game

- I like the idea of gas scavenging after finding all of the   parts

- Looting corpses

- No witches

- Long map

- Saferoom

- L4D1 Survivors

- Special infected are doing a good teamwork

- The way you design it makes it look real because I think I saw a road like this when I was driving.

- Whitakers gun shop

Cons:

- No tanks

- Hard to find the last part (car engine)

- At first I didnt know what to do I realized you just go to the garage and activate the switch there then you can build stuff.

- Hunter spam

- The other areas are to dark even with flashlight

- Its confusing sometimes when you get the gascans
(Consider it a maze)

Conclusion:

Gameplay was 1 hour on expert so my cons and pros are based on only one gameplay on expert difficulty
the textures are well detailed and etc. But it could use a few improvements like adding exploding barrels, propane tanks and everything else but not gascan. I might as well play this when im bored or while downloading other maps.
Great job on this map! you deserve a 9.4/10

I like and approve this map

This review was posted before the latest release.

Pros:

Cool techniques to use in it (Search corpses to find things)

Nice environment

Cons:

Too many common infected

Too hard to find car parts, considering amount of zombies

A little unoriginal, nothing too new compared with other lets build

Conclusion:

The map seems very nice and executed decently. Although with hard difficulties in it I could not complete the map. I also did it in god mode for 45 minutes and I still couldn't complete it (Suggest revise in infected)

I might sound like a critic but this is my honest opinion

This review was posted before the latest release.

Pros:

- nice, professionally done visuals
 - great implementation of the car repair system
 - balanced difficulty

Cons:

- some car parts are very hard to find
- building defenses is not as necessary as it should be

Conclusion:

A high quality map that deserves a higher rating imo. The car repair system was really well implemented and the map looks like it could have been in the original game. Building defenses is not as necessary as it should be in a 'let's build' map though. Personally I didn't manage to find all the car parts, there was one small part left that I missed. I tried for 15+ minutes to find it, then I was too annoyed by the constant zombie attacks and quit.

After playing the map with someone who knew where all the parts are (on advanced) I must say it was a lot of fun. So I had to increase the rating from 9 to 9.5 (as I still think finding all the parts could be a bit easier even for first time players). 

This review was posted before the latest release.

Pros:

+ Quotes
+ Clear Font
+ Instruction
+ Custom Overlay
+ Custom Models/Textures
+ Looting Corpse
+ Great idea building a car

Cons:

- No dialogue
- No proper intro
- No Ammo piles
- Bad nav editing
- Dark
- Shouldn't building a car be Ellis' Job?

Conclusion:

Clever guys should had gathered the gas cans before they lowered the building panel, though they might really got confused about where the tools were.
Also darkness really made me thought the map is larger than it looks.
Jesus I never hated spitters this much before. I tried to fix bots in the gun shop and spitter came and incapacitated them again.
Besides some of the elements are unnecessary. We have a 50 cal on the roof. What good it does us? No good but maybe a good scenery.
All the cons added, sir you successfully extended a 30minutes "let's build" Map into a 1.5 hour scavenging&survival map.

Mapping: 9
Experience: 5
Event: 10

Total: 8.0

This review was posted before the latest release.

Pros:

Great enviroment personally i love dark maps.
love the idea of actually build the car and search for the correct part
really challenging 

Cons:

maybe increase the size of the gunshop
is easy even playing with bots

Conclusion:

overall a great looking map i hope this wins the contest.Congrats!

This review was posted before the latest release.

Pros:

+Nice beginning , saferoom , survivors talking , ect
+Very nice atmosphere , personally i don't play much dark maps but i really enjoyed this one.
+Not too much zombies , not too less zombies. 
+ Nice way on building the car and searching the parts for it

Cons:

-personally , i would like some generators that give light and maybe turn off after a certain amount of time. Then you have to restart the generator. Because the place where you build the car is a bit very dark. (-0 since something personal)
-The map was very fun untill the ending music suddenly started and we got swarmed by tanks (-0.5)

Conclusion:

This map was one of the best LB maps i have played yet , and sure was fun with bots. However , the whole game was ruined because of tanks coming non-stop and the ending music starting. (going to play again later to see if this is fixed , will update review)

Anyway , i thought of a new way to review maps ...
Environment/Atmosphere... 5.0 : Really dark , nice environment , looks official to me
Gameplay... 4.5 : Let's Build map where you can and have to move around much , the car build thing looks good , good layout and idea on how to collect parts for the car , can loot dead bodys

This review was posted before the latest release.

Pros:

It's a build map.

I had some fun trying to find everything.

The build screen is in a better place, and you can still stand on it.

You fixed the desert rifle glitch.


Cons:

I had some trouble finding everything.

The ending zombie and tank rush event happens before I can fully build the car.



Conclusion:

I thought that it was a good map, but the glitch(?) that starts the zombie and tank ending event before the car is finished ruins it for me. I can't find everything before that event. I would be grateful if you would fix it. Otherwise it seemed to be a good map. But the deadline ruins it for me.

This review was posted before the latest release.

Pros:

Nice atmosphere

Light configuration is awesome

build a car concept is well implemented especially because the parts appear in the car when finish building

The map has a size that make the action really interesting

Cons:

You can finish the map without building the car itself

Conclusion:

This map is something that i enjoy a lot with my friend.I like it mainly because you can play this in higher difficulties and for those who complain about the dark atmosphere and the difficulty learn how to play folks this isn't something to waste just for those two things.

This review was posted before the latest release.

Pros:

Excellent layout very original something different. 
the difficulty level is ok for does go have great experience playing L4D
fulfills all the requirements of this contest 
the map atmospheres is very interesting and well design

Cons:

Playing this on easy is such a big piece of cake
Maybe is too dark try changing the light settings a little bit

Conclusion:

Finally a map that i call "piece of art" different from the others Let's Build,with my friends we saw the great work put into this and that is something you don't see to often this days.personally i thing that it need some minor tweaks but for now is the only map that bets to the change.

This review was posted before the latest release.

Pros:

-Good concept, like FrenchDeaths lbac map


Cons:

-Too Dark, I'm not going to increase my settings either because its only this map
-Too hard, difficulty ramps up way too fast
-You can fininsh without building the car(just gas is needed)

Conclusion:

I would prefer it if there were a differnt way to aquire weapons instead of the technology tree, too many maps just use that.

This review was posted before the latest release.

Pros:

Aesthetics looks amazing,i like the dark atmosphere  makes me feel like i 'm in a horror movie i must say that the build a car concept was very well implemented.Looting corpses was a great idea plus the research desk was simple and interesting.

Cons:

maybe the map is a little bit cramped and small especially in the gunshop also  try lowering down the SI i encounter almost all the time with double infected it's not i big issue but other may complain

Conclusion:

overall a great looking Let's Build map lots of new elements that makes this unique i must say that this map has the potential to be the contest winner but for now we must wait.

This review was posted before the latest release.

Pros:

Unique escape vehicle 

Very interesting with the part where you loot bodies and stuff for random items.

The way that the pieces are scattered, were fun and different.

Reasonable buildables and time to build them

Fair tank spawning and horde

The idea of a gun-shop for the weapons was simple yet creative

Overall ambiance feel was good too

Get to start out with decent weapons and items before actually starting the event itself


Cons:

It felt a bit cramped and small at times, but that really wasn't too much of an issue

The ending outro was, well, boring.  I mean, at first, it looked good, but there wasn't any action, just a zoom in camera, and that's it.

Bots had NAV issues.  Will do more testing to find out more specific things

Conclusion:

For the first release, its very well done and doesn't seem to need anything fixed.  Ill report anything that I see after further testing.

This review was posted before the latest release.
End of results.