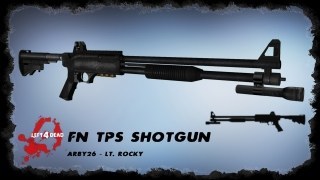 FN TPS Shotgun
You are downloading as a guest.
The extended gallery contains images from all community members.
Francis isn't looking so full of it after all, because now we've got some police ordinance going around. Those zombies think they can just go around causing anarchy and general nuisance? Its time to lay down the law.

And now, with this thing, you are the law.



"That guy's no cop." Says Nick.
"No, I'm not," Replies Francis "I am the law."

Its the Belgium FN Tactical Police Shotgun from Alliance of Valiant Arms, spruced up with the shotgun shells made by Yogensia and some heavy material detailing by me. This model now looks ten times better than the game it comes from.

Speaking of which, I'm not 100% sure if this shotgun is actually from Alliance of Valiant Arms. The Garry's Mod addon I got this from claimed it was from that game, but my attempts at confirming this were unsuccessful; I looked up the AVA wiki, was greeted with a picture of the bikini chick from Gurren Lagann with a Desert Eagle holstered between her cleavage, and then I closed the AVA wiki.

And then I closed my laptop all-together.

And then I unplugged my router.

And then I went cross-eyed for a few minutes.

Edit: Yes, this is from Alliance of Valiant Arms. My second attempt at fact-checking was not interrupted by any questionable 16-year-old's showing me where they kept their third 44's.


Replaces the Chrome Shotgun on Arby26's pumpshotgun set.


OI! Be sure to grab that particle thing from the Haus and the Urik. This mod may or may not utilize some of the contents from that pack.


Credits/Thanks:

Alliance of Valiant Arms – Shotgun mesh/texture; Weapon audio

Malignant – Flashlight model/texture
Geno Blackfire – Flashlight texture
Yogensia – Shotgun shell mesh/texture
Urik – Particle effects
Doktor Haus – Particle effects
Arby26 – Animations
Lt. Rocky – Rig; Compile; Shotgun texture; Animation edits; Materials

No Thanks:

Yoko Littner – Put on a sweater, woman.
12/26/14
========

Initial release
File Details
View Changelog
Version 1.0 Complete